Summer is right around the corner and this Heirloom Tomato Galette is summer all wrapped up in a flaky, buttery, crispy cornmeal crust. Bursting with sweet, juicy heirloom tomatoes, lemon thyme ricotta, and pistachio basil pesto this galette has got everything going for it. With hints of lemon zest, garlic, lemon thyme, and parmesan cheese, this galette is bright, creamy, and fragrant. It's a match made in heaven and will be on repeat all summer long.

BETTER BAKING ACADEMY

My friends at Bake from Scratch and Bob's Red Mill have teamed up to create the Better Baking Academy, a free, one-year baking series that features a new recipe and step-by-step lessons each month. And guess what? I've partnered with them on this month's Galette module and I couldn't be more excited! Woot woot!

Plus, if you're looking for more quarantine baking inspo then look no further. You can sign up here to get all future baking modules delivered straight to your inbox. And, don't worry. It's not too late to catch up. You can find all the past modules below and get baking!

But, first. Let's talk about all things galette.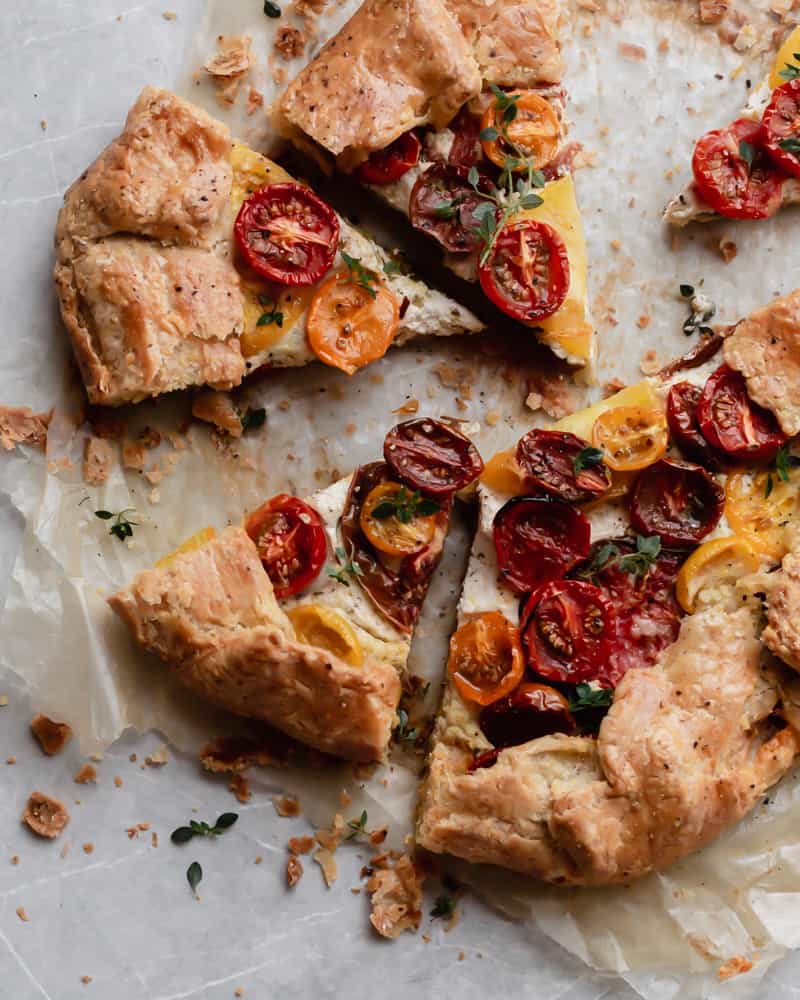 EASY AS PIE GALETTE

Fun fact: I love galettes. They're one of my favorite things to bake. First off, the crust to filling ratio is ideal because I'm all about the flaky crust. They're effortlessly stunning and the perfect vehicle for showcasing fresh produce that's currently in season. They're versatile and can be made sweet or savory. But, most importantly, they're easy to make.

And, if I'm being completely honest, I think I may like galettes more than pie. Why? Well, a galette is essentially a free-form pie. But you don't need to blind bake or parbake the crust. You don't need pie weights or baking beans. It's okay if you don't roll the dough out into a perfect circle or the exact diameter to fit into a pie plate. And you don't need to trim, crimp, or make a decorative top.

Galettes are meant to be rustic and the beauty is in their imperfection and simplicity. Each galette has its own character and its own charm. What's not to like?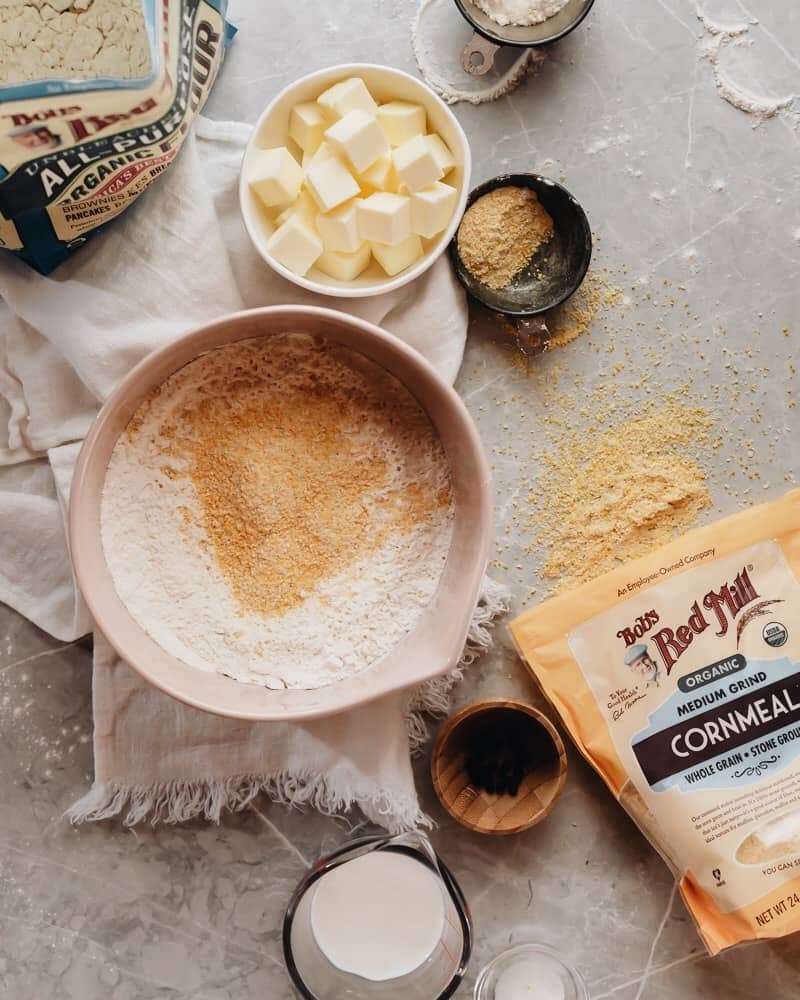 THE HEIRLOOM TOMATO GALETTE COMPONENTS

For this galette, I used Bake from Scratch's cornmeal galette crust recipe. And it's a winner! It can be used with sweet or savory fillings so the possibilities are endless. To make it savory, I reduced the sugar and added some freshly ground black pepper. You could also add some chopped thyme or rosemary or some grated parmesan cheese if you're feeling extra fancy.

Now, here's the rundown on the different components of the heirloom tomato galette.

CORNMEAL GALETTE CRUST: When it comes to making galettes, the filling isn't the only component you can play with. You can also customize the dough. In this recipe, we use a combination of Bob's Red Mill Organic All-Purpose Flour and Bob's Red Mill Medium Grind Cornmeal. The cornmeal adds both texture and flavor and works well for sweet or savory applications.
PISTACHIO BASIL PESTO: Have you ever made pesto with pistachios? It's my personal favorite. The pistachios add a bit of sweetness and pairs perfectly with the roasted tomatoes and creamy ricotta. I add lemon zest and lemon juice to brighten it up and like to keep the pesto a bit chunky to add some texture. You may want to make a double batch. Because trust me. You'll want to drizzle it, toss it, spread it, and stir it into and onto anything and everything.
LEMON THYME RICOTTA: Ricotta and tomatoes are the ultimate dynamic duo. To make the ricotta filling, I start by draining the ricotta. This will prevent the crust from getting soggy. Simply place the ricotta into a strainer over a bowl and let it drain in the refrigerator for about 1 hour. Once the ricotta has been drained, I mix it with lemon zest, parmesan cheese, minced garlic, lemon thyme, salt, pepper and crushed red pepper flakes. If you don't have lemon thyme, you can substitute thyme or rosemary.
HEIRLOOM TOMATOES: When I think of summer, I immediately think of sweet, juicy, ripe tomatoes. I decided to use a mix of regular-sized heirloom tomatoes and multi-colored cherry tomatoes. The heirloom tomatoes not only help fill in the gaps but using the two types of tomatoes makes the galette full of tomato flavor. I'd also like to note that it's important to salt and dry the sliced tomatoes beforehand. I like to line the sliced tomatoes on a sheet tray lined with paper towels, let them sit for at least 15 minutes, and then pat them dry. Doing this will flavor the tomatoes and help remove the excess moisture. Again, we don't want any soggy bottoms!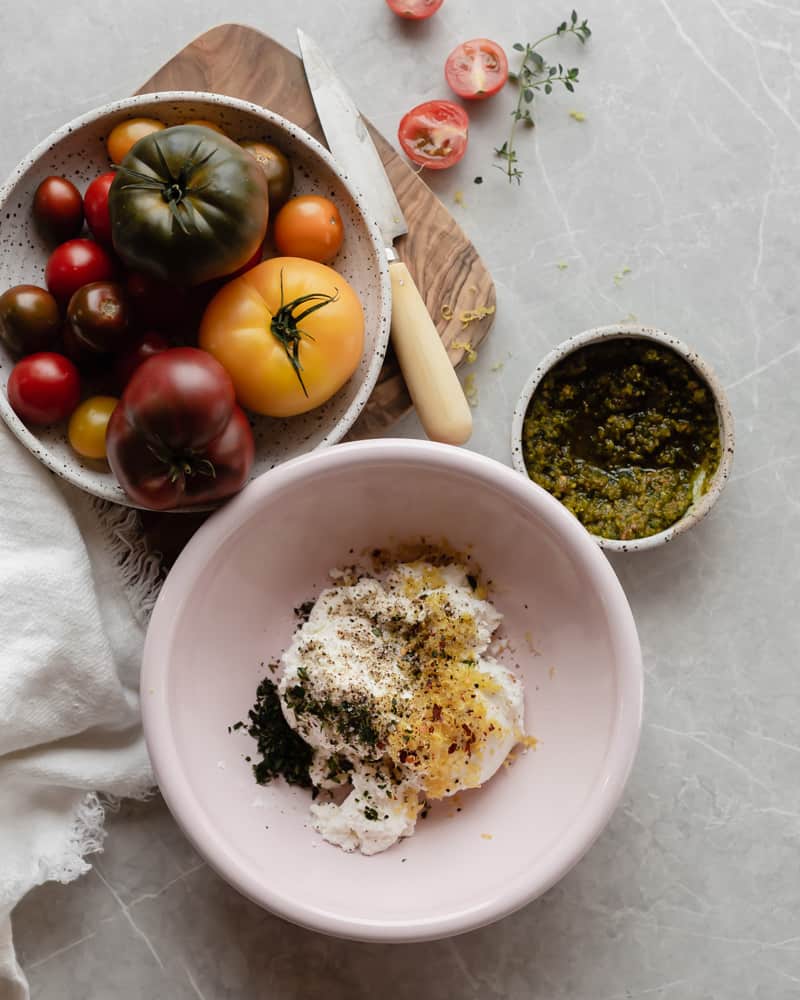 KEY GALETTE CONSIDERATIONS: TIME AND TEMPERATURE

When it comes to making a flaky crust, I want to mention two key considerations: time & temperature.

TIME: Pastry dough isn't something you want to rush. After you've made the dough, you want to rest and chill the dough in the refrigerator. This resting period will help relax the gluten and then make the dough easier to roll out. It will also give the flour some time to properly hydrate and absorb the liquid. In addition to resting the dough, I also like to rest the assembled galette right before baking. Again, this will help relax the gluten and prevent the dough from shrinking but also give the ingredients time to chill and firm up before going into the hot oven.
TEMPERATURE: When making galette or pie dough, the words cool, chilled, and cold are the name of the game. Maintaining a cold temperature throughout the entire process is key in achieving a flaky crust. When the butter bakes, the moisture from the butter will create steam and then ultimately give us those flaky layers we're after. So we want to keep the butter in large chunks and keep everything cold.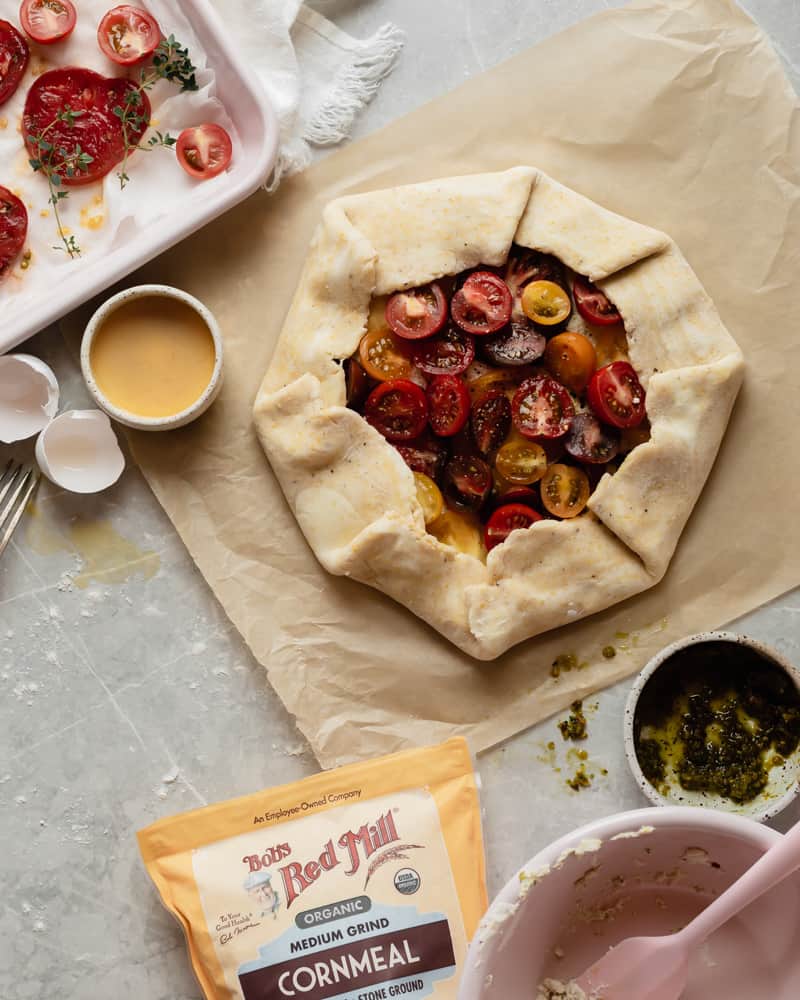 TIPS ON HOW TO MAKE FLAKY GALETTE DOUGH

To help you get started on achieving a flaky galette dough, I have outlined a few tips below:

Tip 1: Chill all the ingredients prior to making the galette dough. Put the cubed butter and milk into the freezer for 10 minutes. If it's hot, you can also put the bowl with the flour and cornmeal into the fridge or freezer too.
Tip 2: Rest and chill the dough. After you've made the galette dough, let it rest and chill in the fridge for at least 1 hour. This will allow the flour to hydrate and enable the gluten to relax making it easier to roll out.
Tip 3: Keep the butter in large chunks. The butter should be the size of peas and walnut halves and you should be able to see the butter when rolling out the dough. These butter pockets will steam while baking and produce a flaky and golden brown crust.
Tip 4: Do not overwork the dough or it will cause it to be tough. We want a tender, flaky crust! When making the dough, it should look coarse and shaggy and will not be a perfectly smooth ball.
Tip 5: Be quick when you're working with the dough. If your hands run hot and you find the butter is starting to melt, then pop the dough back into the fridge for a few minutes.
Tip 6: Assemble the galette on the prepared baking sheet. Then you don't have to worry about transferring it with all the fillings.
Tip 7: Chill the assembled galette in the freezer for 10 minutes prior to baking. This will ensure the butter is sufficiently cold after you've been working with it. It will also give the gluten time to relax.
For more tips and tricks on how to make the perfect galette dough, follow the Better Baking Academy module for Blueberry Cornmeal Galettes here. They've included step-by-step pictures showing how to make the dough by hand or with a food processor. And I highly recommend giving the blueberry version a go for dessert! Happy baking!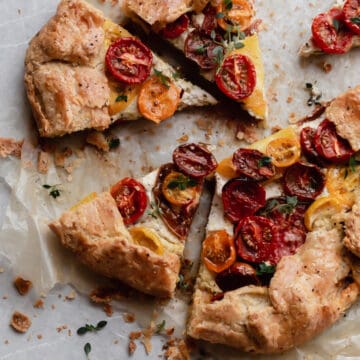 Print Recipe
Ingredients
Heirloom tomato galette
1 ½

cups (188 grams)

Bob's Red Mill Organic All-Purpose Flour

⅓

cup (51 grams)

Bob's Red mill Medium Grind Cornmeal

1

teaspoon (4 grams)

granulated sugar

1

teaspoon (3 grams)

kosher salt

¾

cup (170 grams)

cold unsalted butter,

cubed

5

tablespoons (75 grams)

cold whole milk

1

medium heirloom tomato,

cut into ¼" slices

1

cup (5.5 oz)

cherry tomatoes,

halved

Ricotta lemon thyme filling (recipe follows)

Pistachio basil pesto (recipe follows)

1

large (50 grams)

egg,

lightly beaten

Lemon thyme or rosemary,

to garnish
Ricotta lemon thyme filling
1

cup (8 ounces)

whole milk ricotta,

drained

½

cup (1 ounce)

grated parmesan cheese,

packed

2

garlic cloves,

finely grated

2

teaspoons

lemon thyme (or rosemary), 

finely chopped

½

teaspoon

kosher salt

¼

teaspoon

black pepper

⅛

teaspoon

crushed red pepper flakes

1

teaspoon

lemon zest
Pistachio basil pesto
¼

cup (36 grams)

pistachios,

shelled

1

clove

garlic

¼

cup (5 grams)

fresh basil,

lightly packed

¼

cup (14 grams)

grated parmesan cheese,

lightly packed

¼

cup (56 grams)

extra virgin olive oil

1

tablespoon

lemon juice

1

teaspoon

lemon zest

⅛

teaspoon

kosher salt

⅛

teaspoon

black pepper

⅛

teaspoon

crushed red pepper flakes,

optional
Instructions
For the cornmeal galette crust
In a medium bowl, mix together flour, cornmeal, granulated sugar, and salt. Whisk until combined.

Using your fingers, cut in cold butter until mixture resembles coarse crumbs and butter is pea-size. Make a well in center, and add cold milk. Stir with fingers just until dry ingredients are moistened. 

Turn out dough, and shape into a disk. Wrap in plastic wrap, and refrigerate for at least 1 hour. In the meantime, prepare the pesto and ricotta.
For the lemon thyme ricotta filling
Place ricotta in a fine mesh sieve over a bowl. Cover with plastic wrap and let drain in the refrigerator for 1 hour.

Mix the strained ricotta with the parmesan cheese, garlic, lemon thyme, salt, pepper, crushed red pepper flakes, and lemon zest. Set aside.
For the pistachio basil pesto
In a food processor, pulse the pistachios and garlic. Add the remaining ingredients and pulse until a coarse purée forms. Transfer to a bowl and season with salt, pepper, and crushed red pepper flakes. Set aside.
For the assembly
Place heirloom tomato slices and halved cherry tomatoes in a single layer on a baking sheet lined with paper towels. Season with kosher salt. Let sit for 15 minutes and pat the tomato slices with more paper towels to remove excess liquid.

Preheat oven to 400°F (200°C). Line a baking sheet with parchment paper.

On a heavily floured surface, using a floured rolling pin, roll dough into a 13-inch circle (about 3/16 inch thick). Place dough on prepared pan. Spoon an even layer of pistachio pesto onto dough, leaving a 2-inch border around edges. Then spoon ricotta filling over pesto and top with sliced tomatoes. Fold edges over tomatoes. Transfer to freezer and let chill for 10 minutes.

Beat egg with 1 tablespoon of water and brush egg wash onto crust. Bake until crust is golden, 35-40 minutes. Let cool on pan for 10 minutes. Top with lemon thyme or rosemary, and serve warm or at room temperature.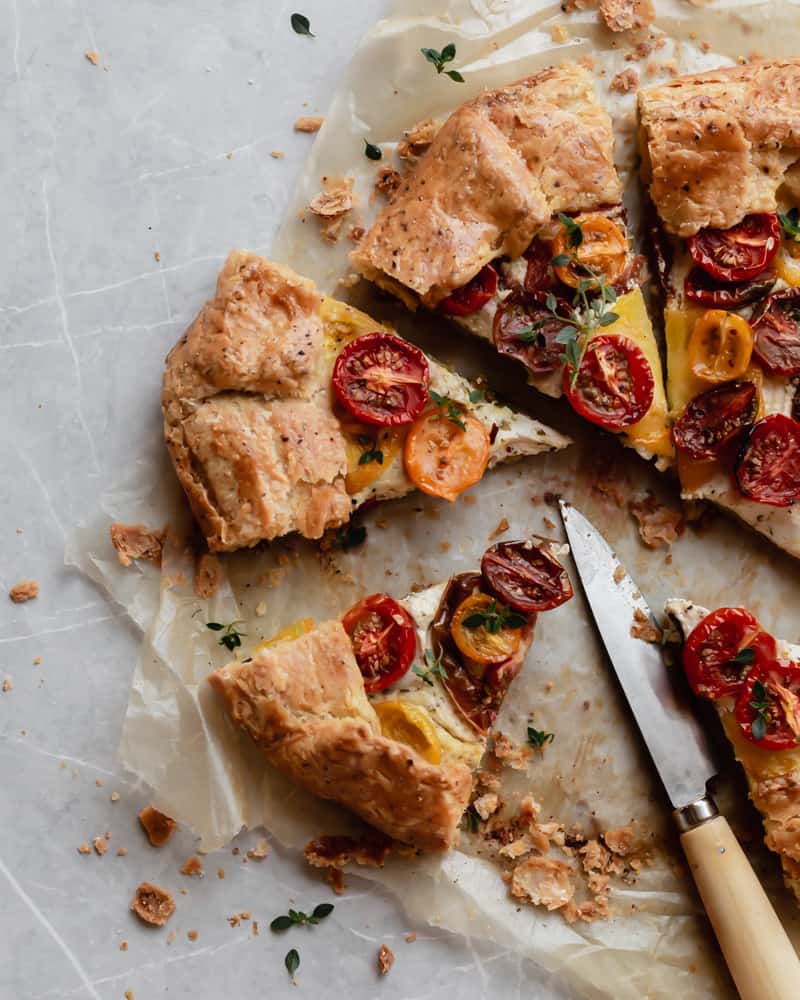 This post is sponsored by Bob's Red Mill and Bake from Scratch Magazine. All opinions expressed are my own. Thank you for supporting the brands that make Studio Baked possible!