Have you ever had a pie with a Saltine cracker crust? Me neither. And let me tell you. It is good. Trust me. This genius idea comes from Chef Bill Smith who developed this famous Atlantic Beach Pie recipe at his restaurant, Crook's Corner, in Chapel Hill, North Carolina. This popular Southern classic is basically a key lime pie with a Saltine cracker crust. And, the Saltine cracker crust is what sets it apart and makes it truly special. Together, this tart is sweet, tangy, and salty. Everything you want and more.

But, the best part? This Atlantic Beach pie is super easy to make and comes together in no time with minimal ingredients and minimal clean up. From start to finish, you'll be done in less than an hour. Minus the chill time. It just takes 18 minutes to bake the crust and 16 minutes to bake the filling. Not bad for a pie. No tempering eggs and no double boiler like the typical lemon curd or custard calls for. Just mix and the filling is ready.

MERINGUE VS. WHIPPED CREAM TOPPING

Rumor has it that the original recipe Bill Smith developed had a meringue topping, but he later found that he preferred a whipped cream topping with sea salt instead. And, I have to agree. This isn't a lemon meringue pie after all and sometimes meringue can be cloyingly sweet.

Now I know some may argue that it seems like a waste to have those four extra egg whites and not make a meringue topping, but I just save the egg whites to make an egg white omelet or pavlova or macarons. I'm sure you can find a use for them, right? Double duty is a bonus in my book! Plus, you also don't have to worry about the meringue weeping in hot or humid weather.

ATLANTIC BEACH PIE → ATLANTIC BEACH TART ADAPTATIONS

I want to note that while the name is called Atlantic Beach Pie, I did convert this recipe into a tart instead of a pie. Why? Because the original recipe is meant to be baked in an 8" pie plate, but I only own 9" and 9.5" pie plates. Thus, I opted to bake the famous pie into a tart since a tart pan is much shallower than a pie plate. But, just to be sure, I did also test this recipe in a 9" pie plate and found that there wasn't enough filling and way too much crust.
Why not just increase the filling to make it into a pie? Well, because I only wanted to use one can of sweetened condensed milk. So, I decided to adapt the crust rather than the filling (way easier!) and this amount of filling is perfect for a tart. I also believe this recipe works just as good if not better as a tart. First, I love seeing the exposed crust of a tart. It's so pretty when it's served. Second, I don't know about you, but I find that tarts are easier to cut since you are able to pop it out of the pan. Especially when it comes to pies that have a more tender cracker or cookie crust that are prone to crumbling. Getting that first slice out of a pie plate can be messy and challenging. That first slice is always the sacrifice!
However, if you don't own a tart pan and only have a 9" pie plate, then don't worry! I got you. Listed below are the two adaptations I would make to this recipe:
Use 42 crackers and 10 tablespoons of softened butter
Increase the filling by 1.5x (you may need to bake the filling a few minutes longer).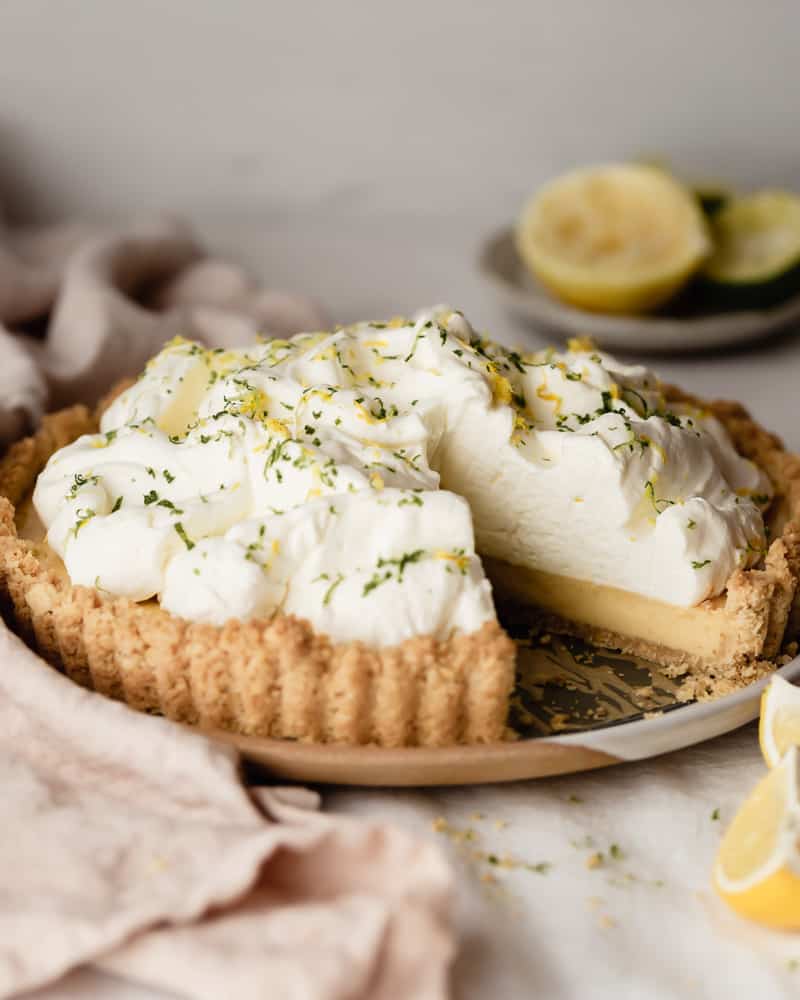 TIPS TO MAKE THE FAMOUS ATLANTIC BEACH TART

Make it in a 9" tart pan: As I mentioned above, the original recipe is intended to be baked in an 8" inch pie plate. Instead, use a 9" tart pan for the perfect crust to filling ratio since a tart pan is shallower than a pie plate. *Note: If you don't own a tart pan, see note above about how to make this recipe in a 9" pie plate.
Don't crush the crackers too fine: I like the rustic charm of the Saltine cracker crust. So don't crush the crackers into complete dust. It's okay if there's some small pieces. Don't worry. It will hold together after you press it into the tart shell and bake it.
Use one sleeve of Saltine crackers: Since we are using a tart pan instead of a pie plate, I adapted the original recipe to use less crackers since tart pans are much shallower. I also found that in the original recipe I tested, there wasn't nearly enough butter for the amount of crackers it called for (and many other reviewers agreed). So I adapted the crust and concluded that one sleeve of Saltine crackers (36 crackers) is perfect with one stick of butter.
Freeze the crust before baking: Once you've pressed the Saltine cracker crust into the tart pan, transfer it to the freezer for 10 mins. This will chill the softened butter and help the crust keep its shape when baking.
Let the tart cool before serving: Once baked, let the pie come to room temperature and let it cool for 2 hours in the refrigerator before serving.
Top the pie with flaky sea salt: It's noted as an optional garnish, but it really shouldn't be. The flaky salt is a must. It just adds that extra saltiness to balance out the creamy filling and sweet whipped cream. Remember. This is a beach pie!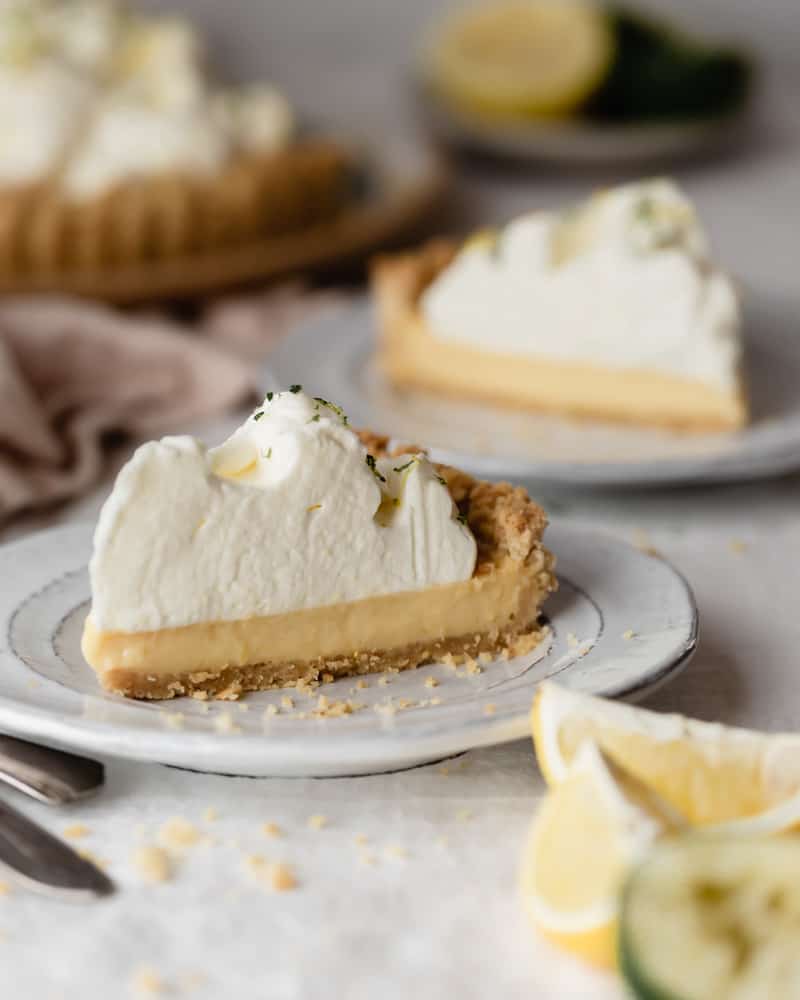 Lemon Lime Atlantic Beach Pie
This famous Atlantic Beach Pie is basically a key lime pie with a Saltine cracker crust and lemon juice. It is salty, sweet, and tangy. What's not to love?
Print Recipe
Ingredients
For the saltine cracker crust
36

(118 GRAMS)

Saltine crackers

3

tablespoons (36 grams)

granulated sugar

½

cup (113 grams)

unsalted butter,

softened at room temperature
For the lemon lime filling
4

large

egg yolks

1

(14-ounce)

can sweetened condensed milk

1

tablespoon

lemon zest

½

cup (120 ml)

lemon or lime juice or a mixture of both (I used 50% lemon and 50% lime juice)

Pinch of kosher salt
For the whipped cream
2

cups (480 ml)

heavy cream

4

tablespoons (50 grams)

granulated sugar

1

teaspoon

vanilla bean paste or extract
For the garnish
Lemon or lime zest (or both!),

for garnish

Flaky sea salt,

for garnish (optional but not really)
Instructions
*Please note that I adapted this recipe to be a 9" tart instead of a 9" pie. See recipe adaptation notes above if you'd like to make this into a pie and read why I adapted this recipe into a tart. Make the saltine cracker crust: Preheat the oven to 350°F. In a food processor, add the Saltine crackers and pulse until the crackers turn into crumbs. Do not pulse until they turn into dust, it is okay if there are small pieces. Add the granulated sugar and the softened butter and pulse until the cracker crumbs come together like dough. To test, the crumbs should stick together when you press them between your fingers. (Alternatively, you can crush the crackers in a resealable plastic bag and then transfer to a mixing bowl and mix in the sugar and butter with a rubber spatula or your hands until it comes together.) Press the cracker crumbs into a 9" tart pan (see note above about adapting the recipe for 9" pie plate) using the bottom of a ¼ cup measuring cup or shot glass. Chill the crust in the freezer for 10 minutes. Bake for 18-20 minutes or until the crust turns golden brown. Let the crust cool on a wire cooling rack while you make the filling.

Make the lemon lime pie filling:  In a medium bowl, whisk together the egg yolks and sweetened condensed milk. Add the lemon and lime juice, lemon zest, and pinch of salt. Whisk together until well combined.  Pour the filling into the cooled tart shell. Bake for 16-18 minutes until the filling is set. To test, jiggle the tart and it should have a slight wobble like jello. Transfer to a wire cooling rack and let come to room temperature and then refrigerate for 2 hours up to overnight before serving. The tart should be cold before slicing. 

Make the whipped cream & garnish:

Freeze or refrigerate a mixing bowl until cold, about 10 minutes. Using a hand mixer or electric stand mixer fitted with the whisk attachment, whip the heavy cream, sugar, and vanilla on medium-high speed until soft peaks form, about 2-3 minutes. Use immediately or refrigerate for up to 30 minutes (when ready to use, you may need to re-whisk for a few seconds).  

Top the lemon lime tart with fresh whipped cream, lemon or lime zest (I do both!), and a sprinkle of sea salt. Enjoy!
Recipe adapted from Chef Bill Smith's Atlantic Beach Pie recipe found on NPR