I love a fudgy dark chocolate brownie with a crackly crust. However, I'm well aware that the signature glossy top on a brownie is coveted by most. And let me set the record straight. I'm also a fan of the shiny top. It reminds me of the boxed Ghirardelli brownies I grew up eating. And I don't say that in a condescending manner at all. I loved those boxed brownies (and boxed cake mixes!). They were my first introduction into baking as a kid. And, to be honest, I don't think I've ever met a brownie I didn't like.

But, as I mentioned before, I'm partial to the crackly, meringue-like top. What can I say? I'm a fan of contrasting textures. The cracked top has a slight crisp and melts in your mouth which makes it the perfect match for the dense, chocolatey inside. And the crust stays crunchy even days after being baked. I can attest to this as I've been slowly grazing on the three batches of brownies I tested earlier this week.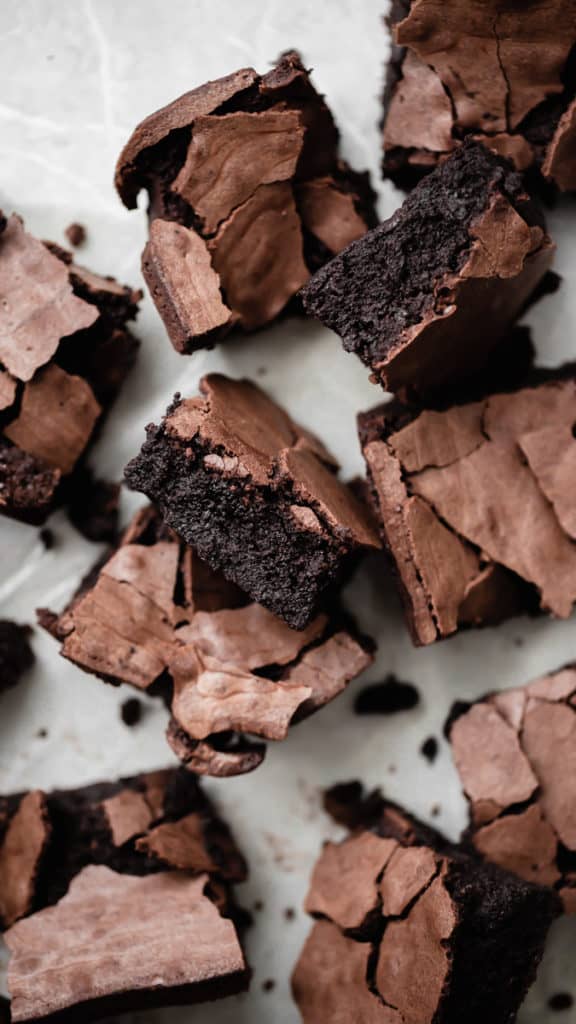 HOW TO ACHIEVE THE CRACKLY CRUST BROWNIE TOP

What's the secret to my crackly brownie top? It's all in the technique! When I developed this recipe, I borrowed the technique from the flourless chocolate cake that also has the same signature crackly crust top that I absolutely adore.

Except, unlike the flourless chocolate cake, you don't need to separate the eggs and whisk the egg whites separately. I'm all about less dishes, less steps, and less fussy recipes.

So, how do you do it? In order to get the crackly crust, you must do three things:

Melt the chopped chocolate and butter together.
Whip the eggs and sugar together until light and fluffy.
Gently fold in the dry ingredients at the end.
Start by gently melting the chocolate and butter over a double boiler. Once melted, let cool slightly (~140°F) so you don't cook the eggs.

Then, in an electric stand mixer, whisk the eggs and sugar together on the highest speed for about 8-10 minutes until the eggs and sugar are light and fluffy and turn a pale, pastel yellow color. It won't quite reach a full "ribbon" stage, but it will be close and the eggs should greatly increase in volume.

Do I really need to whisk the eggs for that long? Yes! Whisking the eggs and sugar together will properly aerate the eggs and thus yield the meringue-like texture on top that we're looking for. So don't rush through this step!

Then, once the eggs are light and fluffy, add the melted butter and chocolate with the mixer on low and then gently fold in the dry ingredients by hand using a rubber spatula. You don't want to deflate the eggs too much.

Now, I know what you might be thinking. Is this going to be too cakey? Rest assured because there's plenty of dark chocolate in this recipe so you'll still get that rich, decadent brownie center that we all love.

Et voila! My fudgy dark chocolate brownies with a crackly crust top. My favorite part is cutting the brownies into squares and watching the top crack with every cut of the knife.
NOTES ABOUT THE BROWNIE RECIPE


Use the spoon and level method. When measuring by volume using cups, I recommend you spoon your flour and cocoa powder straight into the measuring cup instead of scooping it out of the bag or container. This will ensure that the flour and cocoa powder aren't packed into the cup. And since this recipe doesn't call for a lot of dry ingredients, it's important to have your ingredients measured accurately so you won't end up with dry brownies. I'm all about those moist, fudgy brownie centers!
Use Dutch-process cocoa powder. What's the difference between dutch-process cocoa powder and regular unsweetened cocoa powder? Dutch-process cocoa powder is alkalized which neutralizes the acidity and gives it a smoother, mellow flavor. Alkalizing the cocoa also makes it a darker color.
Bake in the lower third of the oven. In order to help get that crackly crust, bake the brownies in the lower third part of the oven. This will ensure the crust doesn't set too quickly.
Err on the side of underbaked. When it comes to brownies, I always err on the side of underbaked to ensure I get a moist and gooey center. I check by inserting a toothpick or cake tester. What I look for is a few fudgy crumbs on the toothpick. It shouldn't come out completely clean like a cake. And it shouldn't be wet with a batter consistency otherwise it's not ready. Bake times will vary depending on your oven and which type of pan you bake the brownies in.
Use a metal pan. I prefer to use the light colored, heavy-gauge metal pans to get even distribution of heat. Not to be confused with the dark coated metal nonstick pans that can sometimes get too hot and cook things too quickly. Metal pans are better conductors of heat than glass or ceramic baking pans. However, if you don't have a metal baking pan, then you can still use glass or ceramic. Just know that the baking times may vary and it may take longer to bake.
I hope you enjoy these brownies as much as I do! If you make them, be sure to tag me on Instagram @studiobaked. I'd love to see your beautiful brownies!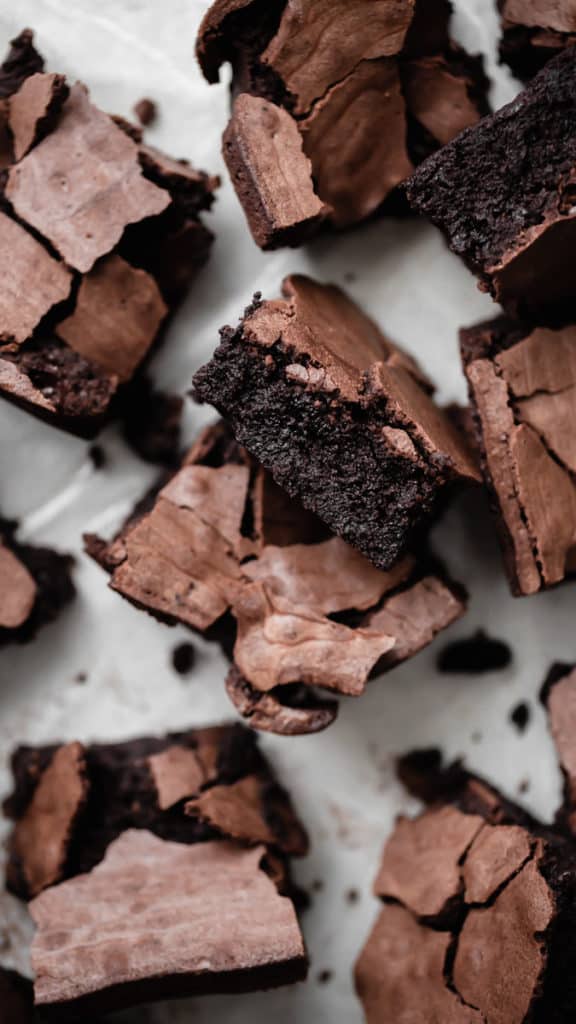 Fudgy Dark Chocolate Brownie with Crackly Crust
Print Recipe
Ingredients
For the fudgy dark chocolate brownies
1

cup (226 grams)

unsalted butter

7

ounces (200 grams)

chopped dark chocolate or dark chocolate chips (about 1 ¼ cups chocolate chips)

4

large

eggs, room temperature

1

teaspoon

vanilla extract

1

cup (200 grams)

granulated sugar

½

cup (100 grams)

brown sugar

½

cup (65 grams)

all-purpose flour (spooned and leveled, see notes above)

⅓

cup (28 grams)

dutch-process cocoa powder (spooned and leveled, see notes above)

½

teaspoon

kosher salt
Instructions
Position the oven racks to the lower third of the oven. Preheat the oven to 350°F. Line a 9x9-inch metal square baking pan with parchment paper, leaving a 1" overhang. Spray with nonstick spray. (See note above about baking pans)

Cut the butter into small cubes. In a heatproof bowl, combine the cubed butter and chopped chocolate and gently melt over a double boiler, whisking occasionally to combine. Once BOTH the chocolate and butter are completely melted, remove and set aside. Let the chocolate and butter cool slightly while you whip the eggs. It should still be warm, around 130°F-140°F before adding to the eggs (you don't want the temperature warmer than 140°F or you will cook the eggs!).

In the bowl of an electric stand mixer fitted with the whisk attachment, add the eggs and vanilla extract. Turn the stand mixer on low speed and then gradually pour in the brown sugar and granulated sugar. Once the sugars are added, increase the speed to the highest speed and whisk for 8-10 minutes (yes! whisk the whole time - this is what will give us the crackly crust!). The eggs should be light and fluffy and a very pale yellow color. 

Meanwhile, combine the flour, dutch-process cocoa powder and kosher salt and mix to combine. Sift to remove any clumps. Cocoa powder always has clumps so it's important to break them up to make it easier to fold the dry ingredients into the batter at the end.

Once the eggs are light and fluffy, decrease the speed to low speed. Slowly pour in the melted chocolate and butter mixture and mix just until incorporated (only takes a few short seconds - it's okay if there's some streaks left). You do not want to overmix as you might deflate the eggs!

Remove brownie batter from the stand mixer and add the dry ingredients. Gently fold in the flour and cocoa powder and fold it into the batter by hand using a rubber spatula, being careful not to deflate the eggs. 

Pour brownie batter into the prepared baking pan and bake for 40-45 minutes, rotating halfway through. Bake times may vary depending on what type of pan you use, so check with a toothpick or cake tester towards the end of the bake time. The tester should come out with moist, fudgy crumbs and the edges should be cooked through and there shouldn't be any jiggle. 

Let cool in the pan on top of a cooling rack until completely cool. 

Once cooled, cut into 16 brownies and enjoy! The best part is cutting into the crackly meringue-like crust.