Summer is coming to an end and it feels bittersweet. On one hand, I'm holding onto the last remaining moments of summer while grasping onto Daylight Savings, the sunshine, and longer days. But, on the other hand, I'm excited to welcome sweater weather and the warm, cozy feelings that fall brings. So, as I say goodbye to the last official week of summer, I decided it's only right to compromise and gradually ease my way into fall flavors. And I thought this blackberry apple crumb cake would make the best of both summer and fall produce.

The cake base is a buttermilk cake and has toasted ground almonds in it to give it extra texture and that toasty flavor. Then it's topped with sliced apples and fresh blackberries. The tartness of the Granny Smith apples perfectly complements the sweet cake and blackberries. But, feel free to use your favorite apple variety. McIntosh apples would be a great option too!

And, because every good snack cake needs a crumb topping, the blackberry apple crumb cake also has a layer of almond streusel on top. The buttery and sweet streusel bakes up into the cake and adds such a nice crunchy texture. If you haven't noticed yet, I am a huge fan of texture in my food.

While the cake isn't super fancy, it definitely is a crowd pleaser. I'm personally a big believer that simple is always best and I like the rustic look of this cake. The cake also isn't too sweet and is similar to a coffee cake. Which makes it perfect for breakfast or anytime! And I'll take any excuse I can get to eat cake for breakfast. So, what are you waiting for? Get baking!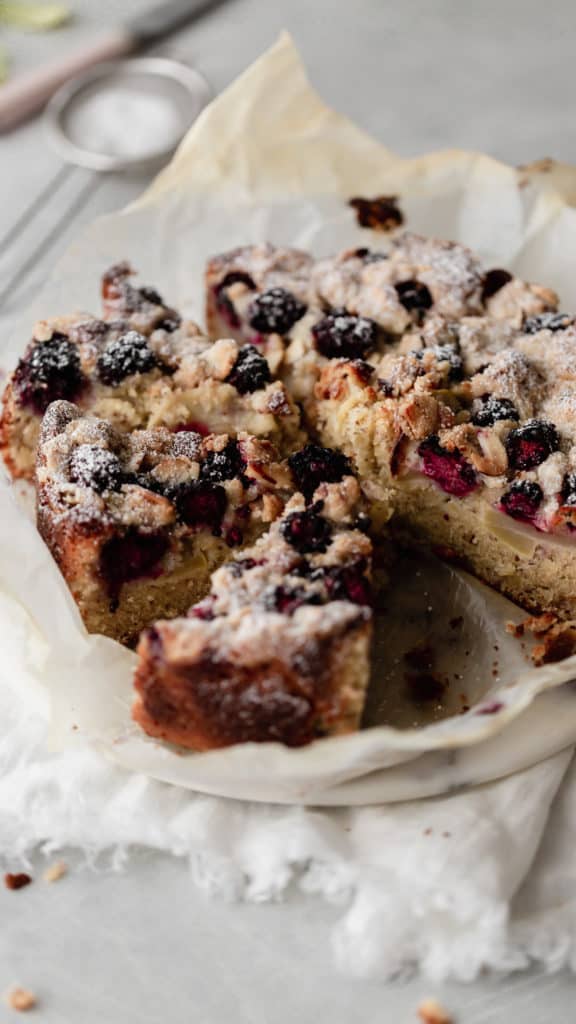 Blackberry Apple Crumb Cake with Almond Streusel
Print Recipe
Ingredients
For the blackberry apple crumb cake
1

cup (226 grams)

unsalted butter,

softened

1

cup (200 grams)

granulated sugar

2

cups (250 grams)

all-purpose flour

¼

cup (42 grams)

toasted almonds,

ground

1

teaspoon (5 grams)

baking powder

½

teaspoon (3 grams)

baking soda

1

teaspoon (3 grams)

kosher salt

3

large

eggs,

room temperature

2

teaspoons (8 grams)

pure vanilla extract

¾

cup (180 grams)

buttermilk

1

cup

blackberries

2

apples; peeled, cored,

and sliced
For the almond streusel topping
⅓

cup (42 grams)

all-purpose flour

⅓

cup (67 grams)

granulated sugar

½

teaspoon

ground cardamom

¼

cup (4 tablespoons, 56 grams)

cold unsalted butter, 

diced
Instructions
For the almond streusel topping
In a small bowl combine the flour, sugar, and cardamom. Mix to combine. Add the cold butter and incorporate the flour using your fingers by squeezing the butter in between your index and thumb as if you were making pie dough or biscuits. The mixture should be mealy and resemble wet sand. Add the sliced almonds at the end (to help them keep their shape) and mix to combine. Set aside until ready to top the cake. 
For the blackberry apple crumb cake
Preheat the oven to 350°F. Grease and line a 9" x 3" round cake pan. The cake bakes up high, so you'll want to use a 3" deep cake pan!

While the oven preheats, spread the almonds onto a baking tray and toast the nuts while the oven preheats, about 5-7 minutes or until fragrant. Let cool slightly and then grind in a food processor or chop using a knife if you're not lazy like me.

In a stand mixer fitted with the paddle attachment, cream the softened butter and granulated sugar on medium speed until pale and fluffy, about 3-4 minutes. 

In a small bowl, combine the flour, toasted ground almonds, baking powder, baking soda and kosher salt. Mix so all the ingredients are evenly dispersed. 

Once the butter and sugar are light and fluffy, decrease the speed to low and gradually add the eggs one at a time ensuring each egg is incorporated before adding the next. Add the vanilla extract and increase speed to medium and mix until light and fluffy. Scrape down the sides of the bowl and the paddle attachment.

Next, we will alternate between the dry and wet ingredients. Add ⅓ of the flour mixture and mix until just incorporated. Add ½ of the buttermilk and mix until incorporated. Repeat. Pour cake batter into prepared cake pan and smooth top with an offset spatula so it is even and level. 

Top the cake with the sliced apples and then the blackberries ensuring they are evenly dispersed. Top with the almond streusel crumb topping. 

Bake for 55-65 minutes or until a cake tester comes out clean, rotating halfway. Let cool in cake pan on top of cooling rack. Top with confectioners' sugar and serve.