Hello tender, buttery, flaky bacon cheddar chive biscuits that have layers for daysssss. Red Lobster's cheddar bay biscuits ain't got nothing on these babies! If you know me, then you know I have a thing for biscuits. And you know I make them on the regs. I personally love savory biscuits because they're easy to make, they're super versatile, and they're great to make ahead and freeze. They can also be served for breakfast, brunch, lunch, or dinner and can be the main dish or make the perfect accompaniment to any meal. I mean. What's not to like?

These flaky bacon cheddar chive biscuits literally have it all. They make a killer breakfast egg sammy and make the perfect bed for a sausage gravy. But, they're not just reserved for breakfast. You could also make a fried chicken biscuit sammy or ham biscuit sammy. Or perhaps you could use them to top a chicken pot pie. They're also great at soaking up any sauces, soups, or stews. Or just serve them on the side to complete the meal. Although, these definitely ain't no side piece. With the bacon, cheddar, parmesan, and chives, these flaky biscuits are guaranteed to steal the show.
Temperature is the key to making homemade biscuits

When it comes to flaky pastry dough of any kind (i.e. pies, puff pastry, biscuits, scones), temperature is our best friend. In order to create a tender and flaky biscuit, we want to ensure the butter and buttermilk are cold throughout the entire process. We will achieve this by using cold butter and buttermilk and freezing the biscuits prior to baking.

But, why is it so important? Good question. While baking, the chunks of butter will create pockets of steam and thus create the flaky layers we're after.

Tips for making flaky biscuits with lots of layers
Prepare your ingredients beforehand—Since the process of making biscuits goes quickly, it's important to prep the diced bacon, chopped chives, and shredded cheese prior so you can just add as you go.
Use cold butter and cold buttermilk—As I mentioned before, temperature is very important in creating a flaky biscuit or scone. Similar to pie dough, you want to use cold butter and cold buttermilk to prevent the fats from melting.
Use a rubber spatula to mix the ingredients—You want to handle the dough as little as possible since your hands are warm. Using a rubber spatula to combine the ingredients will ensure the butter and buttermilk remain cold.
Leave the butter in walnut and pea-sized pieces—When rolling the dough, you should be able to see big chunks of butter throughout.
Laminate the dough to create flaky layers—Folding the dough onto itself will help give us a jumpstart in creating layers of butter and dough.
Shred your own cheese if you can—Pre-shredded cheese contains fillers and doesn't melt as well as cheese that comes in blocks.
Freeze your biscuits before baking—Before baking, I like to put the biscuits into the freezer for 15 minutes to ensure the dough and butter are cold. This also lets the gluten relax before baking.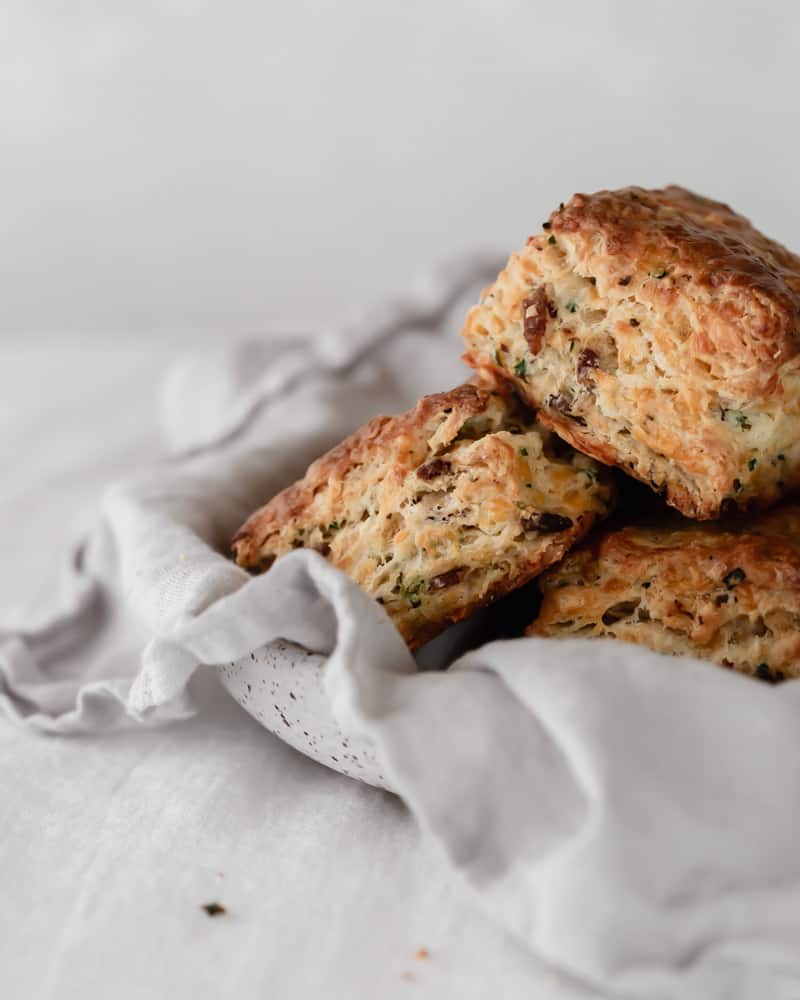 How to laminate biscuits to achieve buttery layers

In order to achieve those mile high layers, the trick is to laminate your biscuits. Which is the process of repeatedly folding and rolling the dough to create multiple layers of butter and dough and butter and dough. Then, when baked, the butter will steam and create those layers.

Lamination is the same method used to make croissants or puff pastry. But, don't worry. When it comes to biscuits, I like to use a simple and easy "shortcut" lamination. You don't need to be super precise like you would for croissants and it doesn't require any fancy tools. All you need is the palm of your hand!

To do this, simply pat the biscuit dough out into a long rectangle that is about ½-inch thick using the palm of your hand. Then fold the dough over itself into thirds like you would fold a letter. With the long edge facing you, take the right end and fold it up and over about ⅓ of the length and then take the left end and overlap it over the first piece. Each section should be equal in width and length and it should look like a folded letter.

To get a better visual of the process, you can watch me make these bacon cheddar chive biscuits on my Instagram stories here.

Why are your biscuits square shaped?
I've gotten this question a few times before: "Why are your biscuits square? I've never seen biscuits that shape before." Well, here's why. When you use a round biscuit cutter or cookie cutter, there inevitably will be scraps and then you will need to re-roll the scraps to use up all of the dough.

But, when you cut the biscuits into squares, there are no scraps. Which means you don't need to re-roll scraps. Which also means that there's one less step. And I'm all about simplicity. However, if you prefer a round biscuit, then by all means feel free to use a biscuit cutter. No judgment here. Do you!

Happy baking! I hope you enjoy these flaky bacon cheddar chive biscuits as much as I do.
Flaky Bacon Cheddar Chive Biscuits
Print Recipe
Ingredients
For the bacon cheddar chive biscuits
3

strips

bacon,

cooked and chopped

2

cups (250 grams)

all-purpose flour

2

teaspoons

baking powder

½

teaspoon

baking soda

1

teaspoon

granulated sugar

½

teaspoon

kosher salt

¼

teaspoon

freshly ground black pepper

¼

teaspoon

garlic powder (optional)

¼

teaspoon

cayenne pepper (optional)

½

cup (8 tablespoons; 1 stick)

cold unsalted butter,

cubed

1

cup (~3.5 oz)

sharp cheddar cheese,

shredded

¼

cup (~0.5 oz)

parmesan cheese,

shredded (if you don't have, use 1 ¼ cup; 4oz. cheddar)

⅓

cup (15 grams)

fresh chives,

chopped

¾

cup (180 grams)

cold buttermilk,

plus extra for brushing
Instructions
Prepare the biscuit ingredients
Note: It's important to have all your ingredients prepped and ready to go before you start making the biscuits since you need to work quickly to ensure the butter and buttermilk remain cold and don't get too warm from sitting out.  Place the bacon in a large skillet. I like to add my bacon to a cold pan so it slowly renders the fat and creates a crispier bacon.

Cook on medium heat until brown and crispy, about 5-7 minutes.

Transfer the bacon to a paper towel-lined plate to remove any excess grease. Allow bacon to cool and then dice into bite-sized pieces. Set aside.

 In the meantime, while the bacon is cooking, cube the butter into chunks. Keep in the refrigerator while you prep the rest of the ingredients.

Next, shred the cheese. Set aside. Chop the green onions. Set aside. 
Make the bacon cheddar chive biscuits
Preheat the oven to 425°F. 

In a large mixing bowl, whisk the flour, baking powder, baking soda, sugar, salt, pepper and spices (optional) together until combined.

Gently toss the cold chunks of butter into the flour mixture to coat. Then press the chunks of butter in between your fingertips and incorporate with the flour until the butter is about pea-sized. It's okay if some chunks are bigger in size (about the size of a walnut).

Stir in the shredded cheese, chives, and chopped bacon using a rubber spatula and mix until combined.

 Make a well in the center and slowly add in the buttermilk. Stir with the rubber spatula until moistened.

Transfer the mixture to a lightly floured work surface. Don't worry if there are dry patches. It will come together. 

Gather the dough and flour and pat it into a rectangle.

Using a bench scraper, fold the dough over itself and then pat down and fold over again until no more dry patches remain.

Once incorporated, pat the dough into a long rectangle about ½-inch thick. Then fold it into thirds like a letter. Pat down and repeat one more time.

Pat the dough down into a rectangle about 1-inch thick.

Cut into 2" squares for 8 small biscuits. Or cut into 6 biscuits for bigger biscuits. 

Place on a parchment lined baking sheet, spaced 2-inches apart.

Transfer the baking tray to the freezer to let the biscuits chill for about 10-15 minutes.

Brush the tops of the biscuits with buttermilk or an egg wash if you want them extra golden brown on top. For the egg wash, beat an egg with 1 tablespoon of water.

Bake 16-18 minutes or until golden brown.
Notes
To make ahead, freeze the unbaked biscuits and keep in an airtight freezer-safe bag or container. Then remove the biscuits from the freezer, place on a baking sheet, brush the tops with buttermilk or egg wash, and bake from frozen adjusting the bake time by adding a few minutes.