Have you ever made your own homemade flour tortillas before? They're super easy to make, do not need any yeast, and require only a few pantry staples that I'm sure you already have stocked. Now, I may be biased but I love this recipe because these flour tortillas taste just like the restaurants and I can guarantee you'll never want to buy store bought tortillas again. The flour tortillas are super tender and pliable which makes them perfect for rolling burritos or wraps. They're also great for making fajitas, quesadillas, or fried tostada shells. Or even just on their own with some butter and cinnamon sugar. Might I also suggest these killer bacon egg potato breakfast burritos? The possibilities are truly endless!

For this flour tortilla recipe, I tried to keep it as authentic as possible. Typically, the ratio of flour to fat is 1 kilogram of flour to one quarter kilogram of lard and this recipe is just a hair shy of that (24% vs 25%). The high amount of fat is what makes these light and tender and easy to roll out. Too little fat results in a dry, hard, and brittle tortilla.

I also use vegetable shortening since I don't have lard stocked in panty, but you can certainly substitute lard if you want to keep it truly authentic or butter if you don't have shortening. So don't come for me! Yes, I know lard is authentic. But, trust me. Vegetable shortening is a solid stand in and tastes just like the real deal. They also give off that signature translucent shine that is a trademark of authentic restaurant-style tortillas. And I know we all have that blue can of Crisco sitting in our pantry just waiting to be used.
BAKING POWDER OR NO BAKING POWDER?

When researching tortillas, I found that half the recipes called for baking powder and the other half omitted it. I tested a few different variations and found that just a little bit of baking powder yielded the best texture albeit a very minor difference compared to the version without baking powder. So, if you don't have baking powder then you can omit it altogether. The tortillas will be just as good!

However, the version I tested that had more baking powder resulted in a thicker, doughy tortilla that wasn't as pliable and was harder to roll when making a burrito or wrap. I also found that they got harder when stored compared to this recipe and the version that did not have baking powder at all.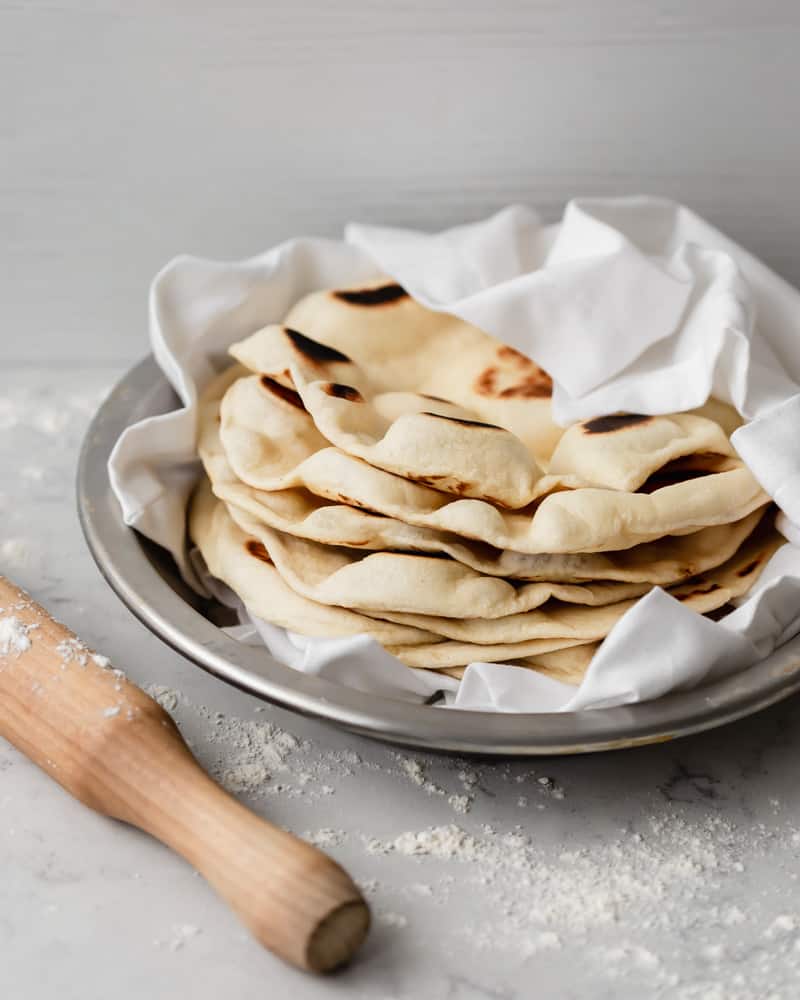 TIPS FOR MAKING HOMEMADE FLOUR TORTILLAS
Use hot water: Using hot water will melt the shortening which will cause the shortening to coat the flour and result in a tender and pliable tortilla.

Let the dough rest: After you've divided the dough into 8 pieces, let the dough rest covered on a plate for 30 minutes. This allows the gluten to relax and will make the dough easier to roll out.

Hand roll the tortillas paper thin: When cooked, the tortillas will puff up so it's important to roll the tortillas paper thin. The tortillas should be about 8.5" in diameter and almost translucent to the point where you can see your hand through them when placed underneath.

Preheat your skillet: I use a cast iron skillet to cook the tortillas, but a heavy bottom pan or griddle will work too. The tortillas will cook quickly, about 30 seconds each side, which will result in a tender tortilla.

NOTE: Tortillas are best eaten warm and will be most pliable and ready to wrap when warm. To reheat, place a tortilla on a plate and cover with a damp paper towel and microwave for 20 seconds or reheat in a hot skillet on low until warm and soft.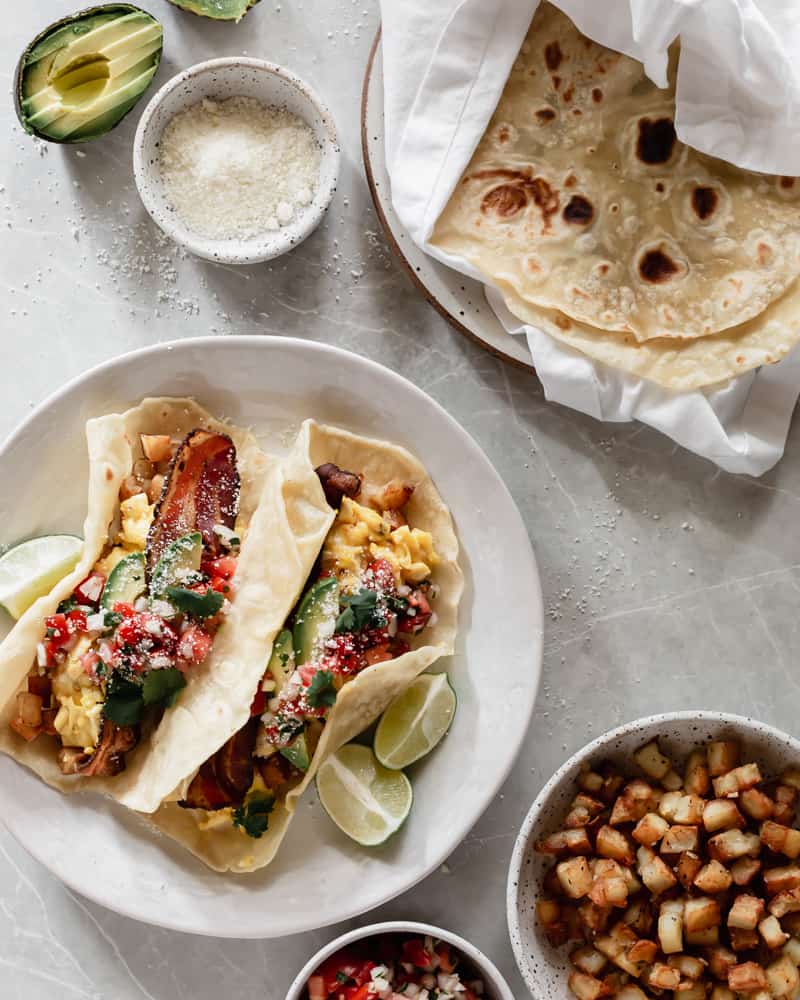 Homemade Flour Tortillas
Print Recipe
Ingredients
For the flour tortillas
2 ½

cups (313 grams)

all-purpose flour

1 ¼

teaspoon

kosher salt

½

teaspoon

baking powder

⅓

cup (76 grams)

vegetable shortening,

lard, or softened butter (your fat of choice)

¾

cup (6 ounces)

very hot water; not boiling
Instructions
How to make homemade flour tortillas
In a large mixing bowl, whisk together the flour, salt, and baking powder.  Add the shortening and mix it in with the flour using your hands. Rub the shortening between your fingers until the flour resembles coarse meal.

Stir the hot water into the flour mixture with a rubber spatula and mix until incorporated and the dough starts to come together. Transfer the dough to a floured work surface and knead by hand for 3-5 minutes until the dough is smooth and has developed some tension.

Divide the dough into 8 equal pieces. Roll each piece into a ball by tucking the outside corners inward towards the center and then cupping your hand in a C-shape around the dough and rolling it on your work surface seam side down until the ball is smooth and elastic. Transfer each piece to a plate and gently press down with the palm of your hand to slightly flatten it. Cover with plastic wrap or a dish towel and let rest for 30 minutes. 

Working with one piece at a time, place the dough onto a lightly floured surface, pat the dough into a flat, round disk, and roll into an 8.5-inch round tortilla using a rolling pin until paper thin and translucent looking. Repeat with remaining dough, but do not stack the uncooked tortillas on top of each other or else they will stick together. (Note: You can roll a few tortillas to start and then roll the rest while the tortillas are cooking.)

Preheat a cast iron skillet over medium heat. Place rolled out tortilla in skillet and cook until bubbles have developed on the surface and the bottom is golden brown and spotty, about 30 seconds. Flip the tortilla and cook until brown and spotty, about 15-30 seconds. Transfer to a plate and cover with a dish towel to keep warm. Repeat the process with the remaining tortillas. Serve warm.
Notes
To store the tortillas, place cooled tortillas in a sealable plastic bag or wrap tightly in plastic wrap and refrigerate for up to 3 days.
To reheat, place a tortilla on a plate and cover with a damp paper towel and microwave for 20 seconds or reheat in a hot skillet on low until warm and soft.