Happy Pi Day! I wanted to make a fruit pie with a pretty lattice top or a streusel topping, but I decided to make do with my pantry staples and opted to make this fudgy dark chocolate chess pie instead. And I'm not mad about it. To be honest, this might be my new favorite pie and I can see why it's a Southern classic. The inside is ooey gooey and tastes just like a brownie with hints of caramel notes from the brown sugar. And the top is crackly just how I like my brownies. Perhaps maybe we should call it a brownie pie instead. Either way, I'm so happy my plan B turned out to be such a success. Don't you just love it when that happens? I hope you enjoy!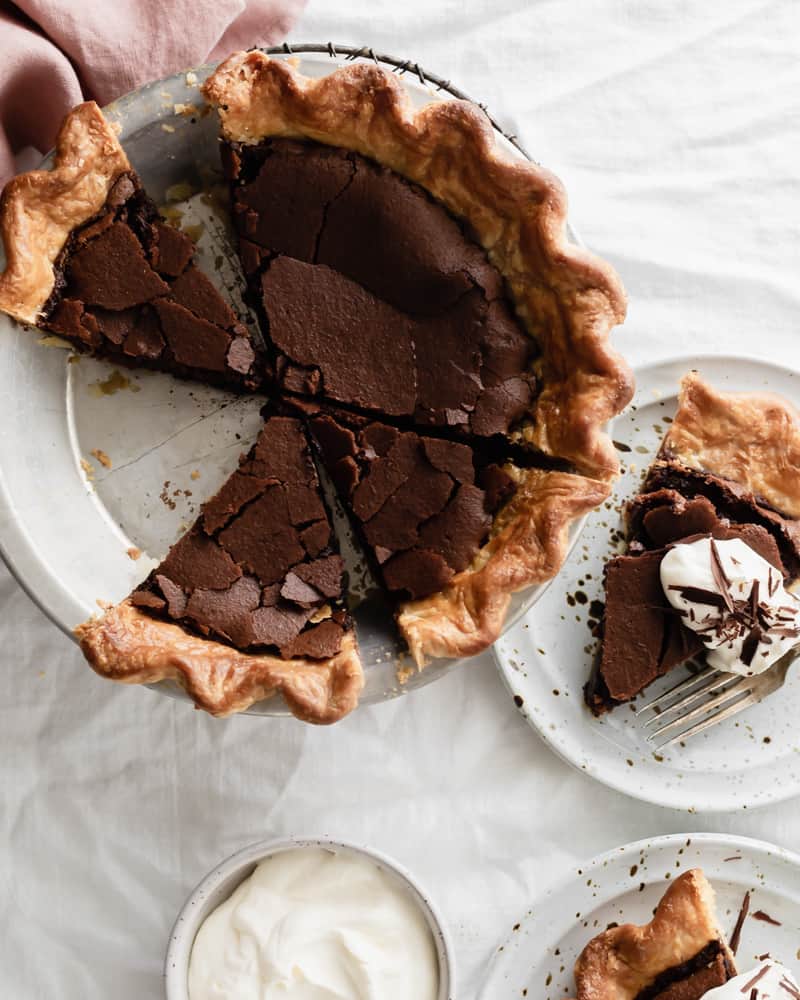 Fudgy Dark Chocolate Chess Pie
Print Recipe
Ingredients
For the single pie crust
1 ¼

cups (156 grams)

all-purpose flour

½

cup (1 stick; 113 grams)

unsalted butter,

cubed

1 ½

teaspoons

granulated sugar

¼

teaspoon

kosher salt

¼

cup (4 tablespoons)

ice cold water,

or more as needed

1

egg,

beaten for egg wash

1

tablespoon

water for egg wash
For the chocolate chess pie filling
2

large

eggs,

room temperature

½

cup (110 grams)

brown sugar

½

cup (100 grams)

granulated sugar

½

teaspoon

kosher salt

1

tablespoon (10 grams)

fine cornmeal (or all-purpose flour if you can't find cornmeal)

2

tablespoons (30 grams)

whole milk

1

teaspoon

vanilla

3

ounces

bittersweet or dark chocolate,

melted

½

cup (1 stick; 113 grams )

unsalted butter,

melted
Instructions
For the all-butter pie crust
Cut the butter into ½-inch chunks and let chill in the freezer for 10 minutes to get extra cold. Pour the water into a cup and fill it with ice cubes. Set aside.

Add the flour, sugar, and salt in the bowl of an electric stand mixer fitted with the paddle attachment and mix on low speed to combine. Turn off the mixer and add the chilled butter to the flour mixture. Mix on low speed for 30 seconds until the butter resembles the size of walnut halves. Gradually pour in ¼ cup of the ice cold water (without the ice cubes). Mix for another 30 seconds - 1 minute just until the dough starts to barely come together (you don't want to overmix it into a ball like cookie dough).

The dough should be very shaggy and you should still be able to see big chunks of butter. If you need more water, then add one tablespoon at a time. Transfer the dough to a lightly floured surface and shape into a disc. Wrap in plastic wrap and refrigerate for at least 1 hour or overnight. To make ahead, wrap the dough in extra plastic wrap and freeze it. Then defrost in the fridge overnight one day before you are ready to use it.
Blind bake the pie dough
Preheat the oven to 400°F. Roll out the dough into an 11-inch circle on a lightly floured work surface.

Transfer it to a 9" pie dish. Trim the edges with kitchen scissors, leaving a ½ inch overhang around the edges. Tuck the overhang under the edge and crimp. Dock the bottom and sides of the pie shell with a fork to prevent the dough from puffing up with steam while it bakes.

Let chill for 15 minutes in the refrigerator.

Crumple up a piece of parchment paper that is big enough to line the entire pie shell. Place it in the pie shell and fill the pie shell with dried rice or beans. This will act as pie weights.

Bake for 15 minutes until golden brown. Carefully remove parchment paper along with the rice or beans. Beat the egg and 1 tablespoon of water together to make an egg wash. Brush the entire pie shell with egg wash. Bake for another 5 minutes until golden brown. Let cool on a wire rack. Meanwhile, make the pie filling.
For the chocolate chess pie filling
Lower the oven temperature to 350°F.

Gently melt the cubed butter and chopped chocolate over a double boiler. Once melted, remove from heat and set aside to cool (Note: you want to cool slightly so the chocolate and butter won't be too hot when mixed together with the eggs).

In a large bowl, whisk the eggs. Add the sugars, salt, and cornmeal and whisk well until light, fluffy, and pale in color, about 1-2 minutes. Add the milk and vanilla and whisk until incorporated. Carefully add the melted chocolate and butter and whisk until well combined and no streaks remain.

Pour the filling into the cooled pie shell. Cover the edge of the pie crust with foil to prevent it from over-browning.

Bake for 30-35 minutes, rotating halfway through. The edges should be set and the center should have a slight wobble. Let cool completely before serving. Top with whipped cream and shaved chocolate. Optional but not really.