Happy National Banana Cream Pie Day, friends! I'm celebrating with my banoffee banana cream pie. And, let me tell you. This isn't your typical banana cream pie. No, no, no. This pie is B-A-N-A-N-A-S! I've decided to take on the unofficial challenge to revamp the infamous classic. This beauty is packed with banana flavor and is a hybrid between the British banoffee pie and Southern banana pudding. And I could not be more excited to share my secret ingredient that truly takes this baby to the next level: banana infused pastry cream. Yep. You heard that right!
What is Banana Infused Pastry Cream?
My banana-infused pastry cream is the hidden secret to this recipe. I tested the recipe three different times and I honestly couldn't stop sneaking spoonfuls of it. And the idea for it came about when I was reminiscing about my time in pastry school. During our pastry showcase, our class made banana milk to serve with warm chocolate chip cookies. To make it, we simply steeped the milk with overly ripe bananas for a few days. It was a huge hit and everyone loved it! It reminded me of those popular Korean banana milks I used to drink.

When I was developing this recipe and brainstorming different ways I could revamp the traditional banana cream pie recipe, I immediately thought of the banana milk and thought it would be great as a pastry cream too. I also thought it would be the perfect way to incorporate more banana flavor into the pie. Because the name banana cream pie is a bit misleading. The only banana flavor in the pie are the slices of banana that sit underneath the cloud of whipped cream. Which almost seems like more of an afterthought rather than the star ingredient as the name suggests. So, now we've got both the sliced bananas AND banana pastry cream in my version.
How to Make Homemade Banana Infused Pastry Cream
The process for making my banana infused pastry cream is a two-step process. It may seem time-consuming or labor intensive, but it is so worth the time and effort. Trust me. You'll never go back to those packaged pudding mixes ever again!

Steep the milk with freshly sliced bananas overnight (or at least 1 hour)
Make the pastry cream with the banana infused milk
Typically, to make an infusion you steep the milk with your infusions such as tea leaves, coffee, etc. I followed the same method and steeped the hot milk and heavy cream with freshly sliced bananas overnight in the fridge. I also tested the recipe with a one-hour infusion and I still was able to taste the banana flavor. So, if you're pressed for time then a one-hour infusion will do just fine. But, if you want more banana flavor, then I highly suggest steeping the milk mixture overnight in the refrigerator. I also recommend using very ripe bananas. If you're like me, then you always have spotty, brown bananas sitting on your countertop at all times. Amirite?

PRO TIP: Use verrrry ripe bananas for the pastry cream. The dark brown and spotty bananas are what you are looking for. You don't want the green bananas. The riper the banana, the more prominent banana flavor you'll get!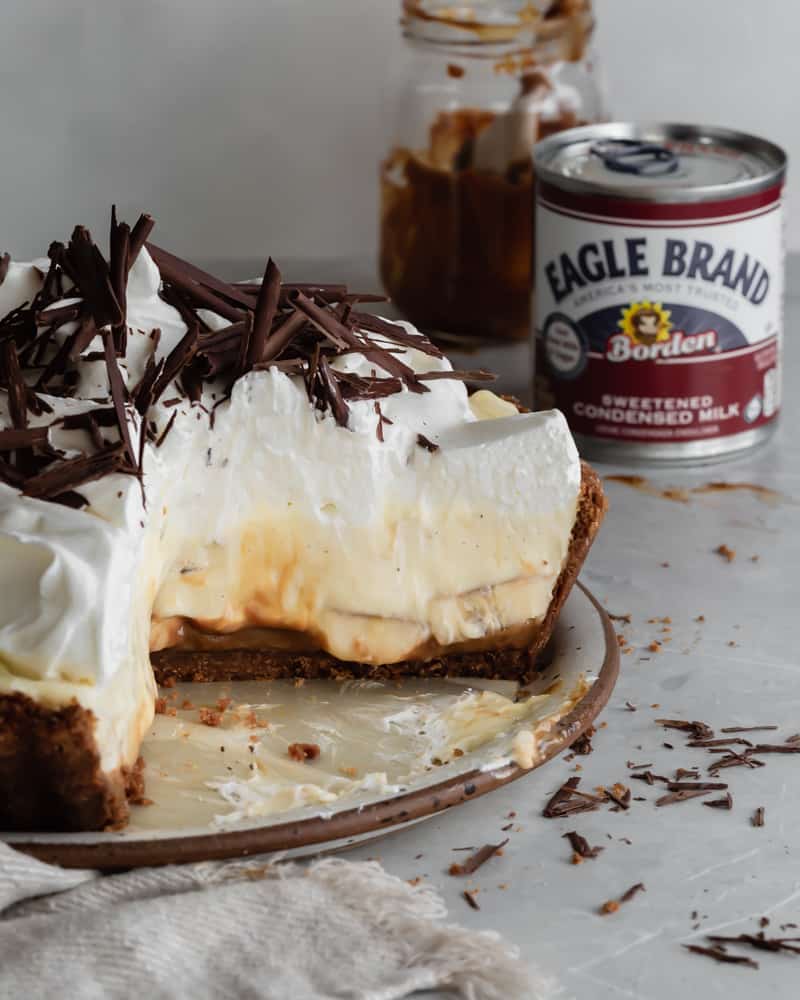 Why Does the Pastry Cream Use Sweetened Condensed Milk?
Traditional pastry cream typically only uses milk and/or heavy cream. But, I wanted to also use sweetened condensed milk for a few reasons. As I mentioned before, this banana cream pie is a nod to the English banoffee pie and the classic Southern banana pudding. Usually banana pudding is made with a pudding mix that is combined with sweetened condensed milk and is served as a trifle with layers of banana pudding, Nilla wafers, and sliced bananas. So I decided to keep with that tradition, but opted to ditch the pudding mix and make it from scratch. I also found that the sweetened condensed milk provides a thick, creamy texture to the pastry cream and allows me to cut the sugar since it already has sugar in it. I'm all for one less ingredient to measure! Yes pleaseee.
Easy Peasy Press-In Nilla Wafer Pie Crust vs. Pie Crust
Oddly enough, when I was researching the origins of English banoffee pie, I read on Wikipedia that the originator of the banoffee pie said one of his pet peeves is a cookie crumb pie crust. But, you know what? I have to disagree with that sentiment. For this recipe, I've opted for a Nilla wafer cookie crust instead of a buttery pie crust. For two reasons: 1) ease and convenience, 2) flavor and nostalgia.
I personally love cookie crusts and I'm not afraid to admit it. They're simple and easy and anyone can make them. I'm a big fan of no-fuss recipes that don't require all day to prepare. And because that ultimately means I am one step closer to having homemade pie in my belly. Ya know what I mean? For this banana pie, I decided to use Nilla wafers for the crust instead of the typical Graham crackers. Nilla wafers are a staple in the traditional Southern banana pudding so of course I had to include them and give another nod to the iconic dessert. That being said, this pie would also taste lovely with a regular pie crust. So if you can't find Nilla wafers and have a little more them, then go ahead and blind bake a single pie shell.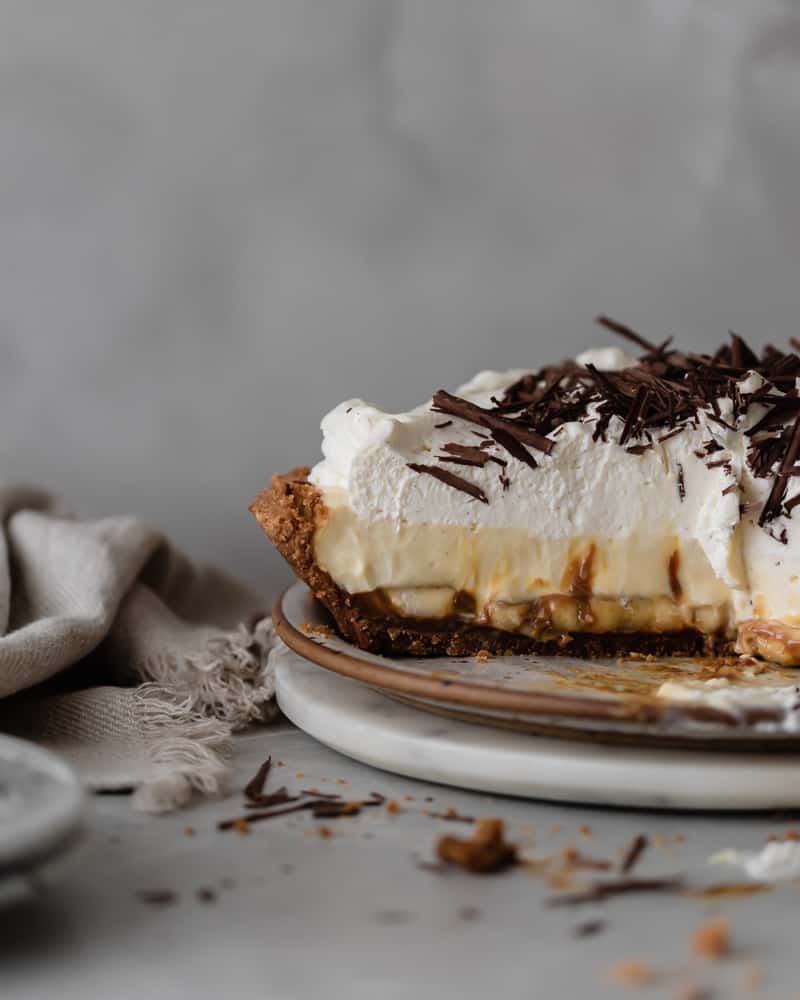 What is Banoffee Pie?
For those of you who aren't familiar, banoffee pie is an English pie that has a buttery pie crust, toffee, sliced bananas, and whipped cream. Hence, the name banoffee pie which combines the words "banana" and "toffee" together. The toffee is actually dulce de leche which is sweetened condensed milk that has been cooked for several hours until it reaches a thick, caramel consistency. The dulce de leche and banana truly make such a winning combination.
How to Make Homemade Dulce de Leche
This banana cream pie recipe calls for two cans of Eagle Brand® Sweetened Condensed Milk. One to make the dulce de leche toffee. And one for the pastry cream as I mentioned before. You can certainly purchase premade dulce de leche, but I always have trouble finding it in the store. No worries because it is super easy to make at home. It just requires time and planning since it takes about 2 hours to make.

There are various methods to make dulce de leche, but I've found that the oven method is the easiest and safest:

Dulce de Leche Oven Method
Pour 1 can sweetened condensed milk into 9 inch pie plate. Cover with aluminum foil; place in larger shallow pan. Fill larger pan with hot water. Bake at 425º for 2 hours or until thick and caramel colored.

Enjoy!
Now, I hope you are as excited as I am about this recipe and will give it a try. But, beware. I have a feeling you will end up eating the banana pastry cream by the spoonful just like me. You've been warned. Happy baking!

p.s. As always, if you make this banoffee banana cream pie, tag me on Instagram @studiobaked. I'd love to see your creation!
Banaoffee Banana Cream Pie with Dulce De Leche
Print Recipe
Ingredients
For the banana pastry cream
5-6

ripe bananas,

divided (2 for the infusion and 3-4 for the filling)

2 ½

cups (600 grams)

whole milk

½

cup (120 grams)

heavy cream

5

large

egg yolks

⅓

cup (43 grams)

cornstarch

1

14-ounce

can sweetened condensed milk

½

teaspoon

kosher salt

1

teaspoon

vanilla bean paste or extract

½

cup (113 grams)

unsalted butter
For the nilla wafer pie crust
70

(~255 grams)

nilla wafers

¼

cup (50 grams)

granulated sugar

½

teaspoon

kosher salt

½

cup (113 grams)

unsalted butter,

melted
For the dulce de leche
1

14-ounce

can sweetened condensed milk (or 1 can prepared dulce de leche)
For the whipped cream topping
1 ½

cup (360 grams)

heavy whipping cream,

chilled

3

tablespoons (36 grams)

granulated sugar

½

teaspoon

vanilla bean extract or paste

1

chocolate bar for chocolate shavings (optional)
Instructions
For the banana pastry cream
Note: I recommend steeping the bananas overnight but one-hour will do just fine if you're pinched for time. 

Slice two bananas and place them in a heatproof bowl. Set aside.

In a medium saucepan, combine the milk and heavy cream. Heat on medium until boiling, about 3-5 minutes. Remove from heat and pour over the banana slices. Cover the bowl with plastic wrap, let come to room temperature, and refrigerate overnight or at least 1 hour. 

Strain the banana milk into a medium saucepan. Discard the banana slices. In the same saucepan with the strained banana-infused milk mixture, add the sweetened condensed milk, salt, and vanilla bean. Stir to combine.

In a bowl, add the egg yolks and cornstarch and whisk to combine. Add a few tablespoons of the cold milk mixture to the egg and cornstarch mixture and whisk to combine. Set aside.

Heat the milk mixture on medium until it comes to a boil. Once the milk is boiling, remove from the heat and slowly stream in half of the milk mixture into the egg mixture while whisking constantly. This will temper the eggs. Once combined, pour the tempered egg mixture back into the saucepan with the remaining milk. Whisk to combine off heat.

Return the mixture back to the heat and heat on medium while stirring constantly. I like to start off with the whisk and then once it starts to get thicker, I switch to a heatproof rubber spatula. 

Bring the mixture to a rolling boil and once it comes to a boil, cook for another 2 minutes to cook off the cornstarch. Then remove from heat and strain through a sieve over a bowl to remove any cooked egg bits.

Let the pastry cream cool slightly and then add the softened butter cubes to the pastry cream, one tablespoon at a time. Blend until smooth with an immersion blender to emulsify the butter into the pastry cream.

Once fully incorporated and emulsified, transfer the pastry cream to a shallow dish, cover directly with plastic wrap right on top touching the surface of the pastry cream. This will prevent a skin from forming.

Transfer the pastry cream to the refrigerator. Let cool in the fridge for at least 1-2 hours before using. Then fluff it up with a whisk or rubber spatula when you're ready to use it.
For the nilla wafer pie crust
Preheat the oven to 350°F (180°C).

In the bowl of a food processor, pulse the Nilla wafers until finely ground into crumbs. Transfer Nilla Wafer cookie crumbs to a medium-sized bowl, add granulated sugar and salt and mix to combine.

Pour the melted butter into the mixture and mix until thoroughly combined. 

Press the cookie crumbs into the bottom and sides of a 9-inch pie plate or 9-inch deep dish tart pan using the bottom of a measuring spoon or a shot glass.

Bake the crust for 15-16 minutes. Remove from the oven and let the crust cool for at least 20 minutes before filling.
For the dulce de leche
Pour 1 can sweetened condensed milk into a 9-inch pie plate. Cover with aluminum foil; place in larger shallow pan. Fill larger pan with hot water. 

Bake at 425º for 2 hours or until thick and caramel colored.
For the whipped cream topping
Right before serving, whisk the heavy whipping cream using a hand mixer or an electric stand mixer with the whisk attachment (you're welcome to use a whisk if you're looking for a workout!). Whisk on medium-high speed just until it holds soft peaks or until its reached your desired consistency, about 3-4 minutes. 

Spoon the whipped cream on top of the chilled pie and sprinkle with chocolate shavings (I use a vegetable peeler to make my chocolate shavings). Serve immediately. Enjoy!

Note: Whipped cream is best served immediately as it is not very stable. If you do make it ahead, whip the heavy cream just until it has reached soft peaks. Cover it tightly and store it in the refrigerator to keep it cold. Then, right before serving, re-whip it for a few seconds to revive it a bit. 
To assemble the banoffee banana cream pie
Once the Nilla wafer crust has cooled, spread an even layer of dulce de leche on the bottom of the Nilla wafer crust using an offset spatula. 

Top the dulce de leche with slices of bananas from 3-4 ripe bananas, ensuring there aren't any gaps. 

Add the pastry cream on top of the sliced banana layers and smooth with an offset spatula. Let chill in the refrigerator for at least 1 hour to set.

Right before serving, finish by topping the pastry cream with whipped cream and shaved chocolate. 

Serve immediately and enjoy! 
Notes
This banoffee banana cream pie (or any custard-based pie in my opinion) is best eaten the same day. If you'd like to get a head start and make it in advance, I recommend making the banana pastry cream and dulce de leche a few days before, storing them in the refrigerator, and then assembling the pie the same day you want to serve it. Both the banana pastry cream and dulce de leche are great to make ahead and keep well in the refrigerator covered. I also recommend making the whipped cream right before serving, but see my note above about making it in advance.