Cookie season is in full force! And, to me, that means sugar cookies. However, instead of the typical sugar cookie, I'm opting for my buttery holiday cut-out sugar cookies that are perfect for decorating. I can guarantee that these buttery sugar cookies are easy to roll out, they hold their shape well when baking, they don't spread, and they taste good on their own even without the royal icing.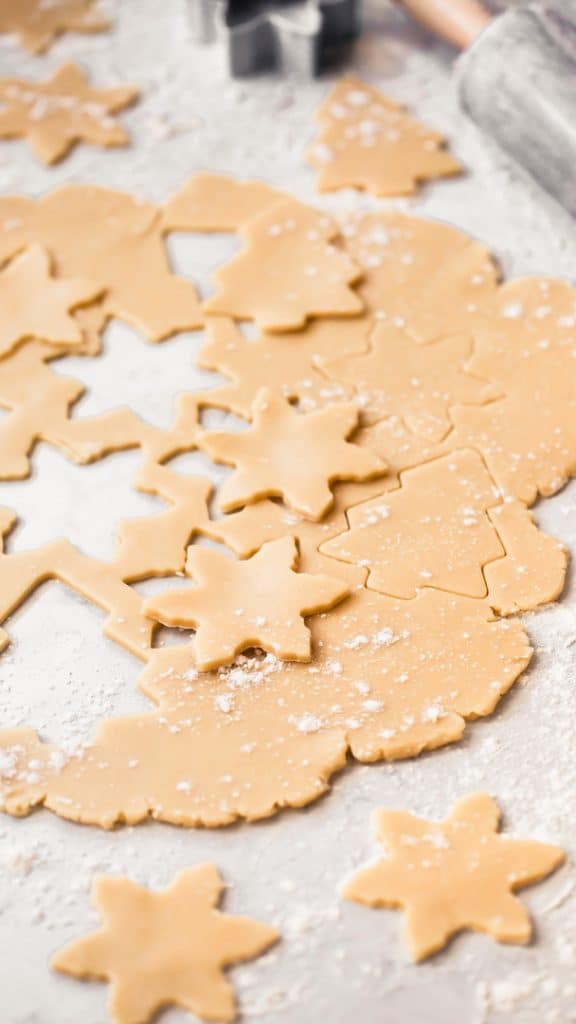 I'd classify these butter sugar cookies right in the middle of a shortbread and a sugar cookie. They have a slightly greater ratio of butter to flour than a sugar cookie, but not as much as shortbread. And they have more flour and sugar than shortbread making them less crumbly and perfect for cutting out shapes with your favorite cookie cutter.
I also use egg yolks instead of whole eggs in this recipe to make the sugar cookie more rich. I don't know about you, but I just find that sugar cookies can be a bit bland sometimes so the fat in the egg yolk is the perfect solution. In addition, the fat in the egg yolk makes the sugar cookie dough softer and more pliable making it easy to work with. This dough is super forgiving and it won't crack everywhere or be super crumbly. Basically, this simple sugar cookie recipe checks all the boxes.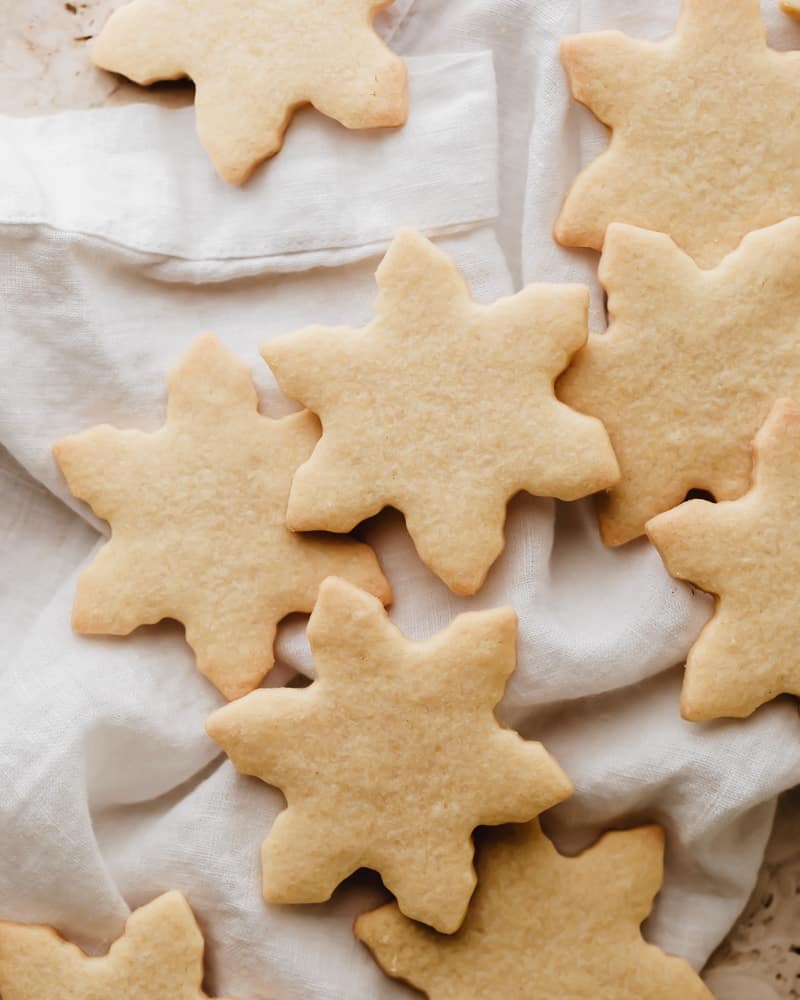 A primer in royal icing to decorate sugar cookies
For my royal icing, I use meringue powder instead of raw egg whites. I just think it's safer (thank you, next, salmonella!) and stores better. Although, I'd like to mention that meringue powder isn't as bright white as egg whites. It has an off-white, eggshell color. But that doesn't bother me since I'm not a cookie decorator. You can purchase meringue powder online or in a craft store like Michael's.
To make the snowflake pattern, I make two consistencies for royal icing: 1) a piping/outlining consistency for the details and the outside border, and 2) a "flood" consistency to fill the cookie. A piping consistency is good for outlining, writing and piping details onto the cookies. I use this to outline the cookies and hold in the "flood" icing. Start by making the piping consistency as explained in the directions below. The consistency should be thicker than the "flood" consistency and similar to toothpaste consistency. If you scoop some of the icing out with a spoon and drizzle it back over the rest of the icing, it should take about 18-20 seconds (yes, count!) for the icing to blend and disappear back into the icing. You want the icing to be thick enough to not run, but loose enough to pipe. Once you have the consistency you want, portion out some of the icing and transfer it to a piping bag fitted with a pastry tip. I used a Wilton #2 round. Then, continue making the flood icing.
A "flood" consistency is the thinnest consistency and is runny almost like honey. It is used to fill the sugar cookies and create the base for piped decorations. To make the flood consistency, add more water, one tablespoon at a time. To check, scoop some of the icing with a spoon or rubber spatula and drizzle it back over the rest of the icing in the bowl. It should take about 9-10 seconds (again, do count this!) for the icing to completely blend and disappear back into the rest of the icing. You want the icing to be thin enough to flood the cookies, but not too thin that it won't set or dry. Once you have your desired consistency, transfer the icing into piping bags if ready to use or cover the bowl with a damp paper towel pressed directly onto the icing to prevent the icing from drying out. If you want to color the icing, then portion out the icing into bowls and mix with gel food coloring before transferring to piping bags.
Once you have your royal icings, start by piping a border around the edge of the snowflake sugar cookie with the stiff consistency icing. Then add the flood icing into the center of the cookie to fill it in and make it all white. Use a toothpick to help fill in any gaps. Then decorate the cookies with your favorite details using the piping consistency icing.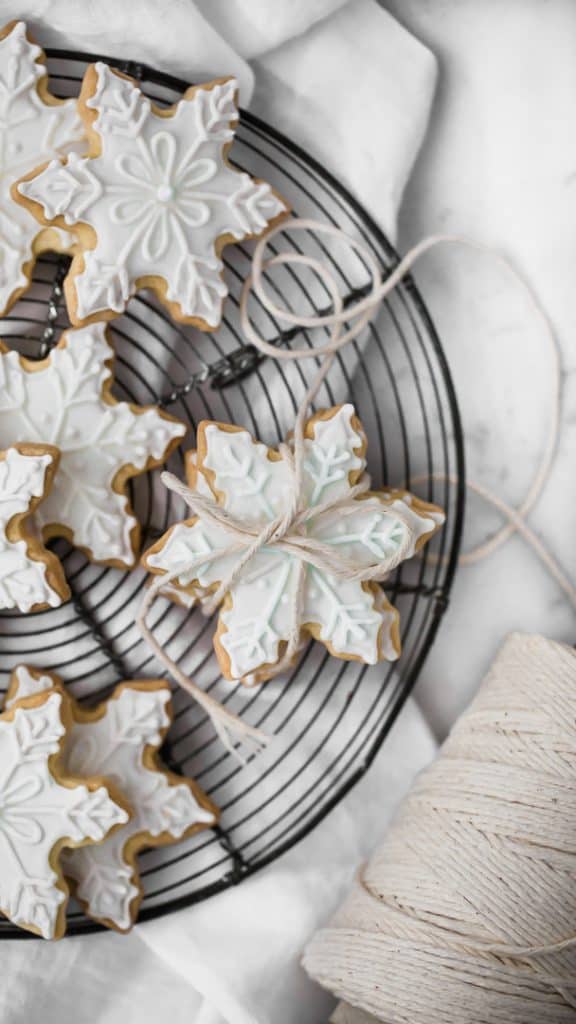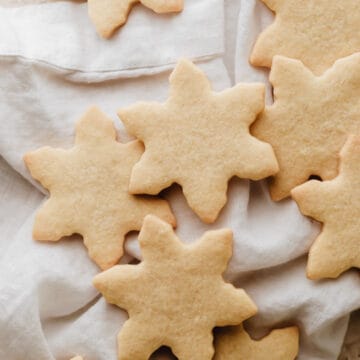 Buttery Cut-Out Sugar Cookies for Decorating
Print Recipe
Ingredients
For the buttery sugar cookies
1

cup (2 sticks; 226 grams)

unsalted butter,

softened

¾

cup (150 grams)

granulated sugar

¼

cup (30 grams)

confectioners' sugar,

sifted

2

large

egg yolks

2

teaspoons

pure vanilla extract

2 ¾

cups (344 grams)

all-purpose flour

½

teaspoon

kosher salt
For the royal icing
1

lb

confectioners' sugar,

sifted

3

tablespoons

meringue powder

Pinch of salt

½

teaspoon

clear vanilla extract (you can use regular vanilla extract,

but I like clear because it won't tint the white color)

5-8

tablespoons

water,

or more depending on desired consistency (see primer above for more information)
Instructions
Make the buttery sugar cookie dough
In the bowl of an electric stand mixer fitted with the paddle attachment, cream the butter, granulated sugar and sifted confectioners' sugar together on low speed for about 5 minutes until light and fluffy. You do not want to aerate.

Gradually add the egg yolks one at a time ensuring each one is well incorporated before adding the next. Add the vanilla extract. Scrape down the bowl and the paddle.

On low, slowly add the flour and salt and mix until the dough comes together into a ball.

Transfer the sugar cookie dough to a lightly floured surface and form into a disc. Refrigerate for at least 30 minutes  to 1 hour before rolling out.

Preheat oven to 350F. Roll out the dough to ¼" and cut out shapes using a cookie cutter. Transfer the shapes to a parchment paper-lined baking tray leaving about an inch in between. Let chill in the freezer for 15 minutes. This will help prevent the cookies from spreading. Bake 10-13 minutes, rotating halfway.
Make the royal icing
In the bowl of an electric stand mixer fitted with the whisk attachment, combine all the ingredients (start with 5 tablespoons of water and add more as you go) and mix on low until incorporated. Then increase the speed to medium-low until and mix until icing begins to form peaks, about 5-7 minutes.

Add more water, one tablespoon at a time until you've reached your desired consistency. See notes above about royal icing consistencies.