I love snickerdoodles. I love brown butter. And, together, these brown butter snickerdoodles are a match made in heaven. Two peas in a pod. Long lost soulmates destined to be together forever. Ya catch my drift? The combination of the soft and chewy texture, the slight tang from the cream of tartar, the nuttiness from the brown butter, and the hint of cinnamon sugar creates the perfect cookie. I also love how the toasted milk solids in the brown butter create these pretty dark brown flecks that are sprinkled throughout the cookie. It's those small, subtle details that get me excited about food.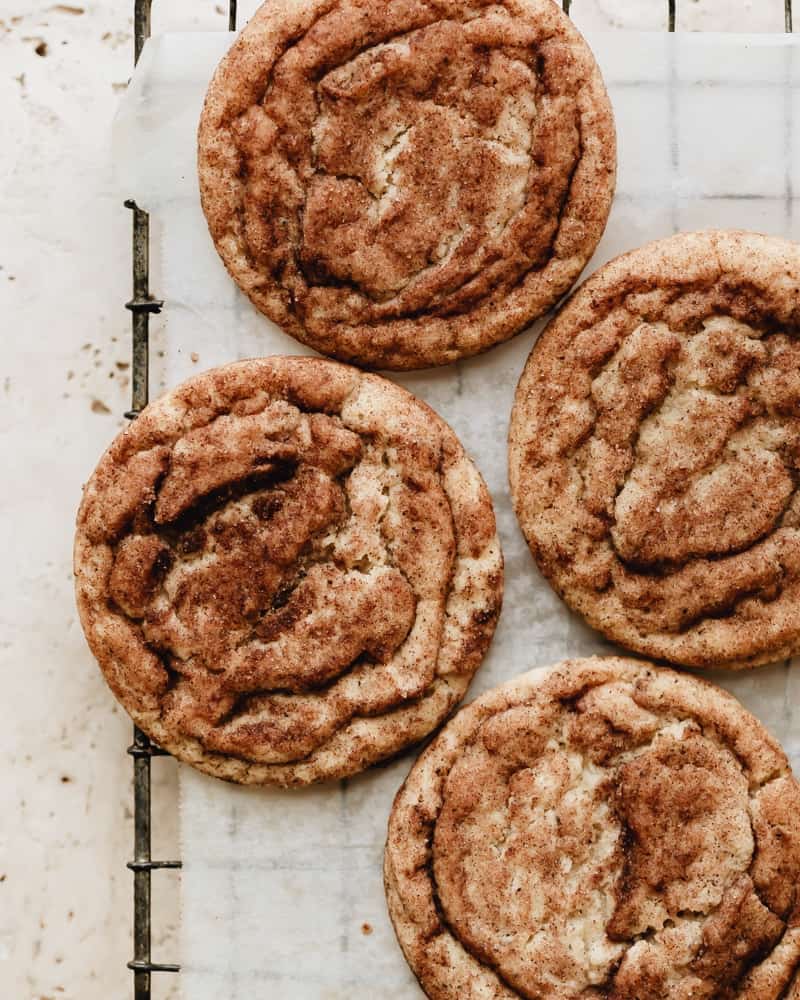 If I had to choose, I'd pick snickerdoodles as one of my top 5 favorite cookies. And I think it's pretty safe to say that most people would agree that snickerdoodles are a beloved classic. Plus, they're super simple to make and I always have the ingredients on hand in my pantry. No need to run to the store for chocolate chips or nuts or cocoa powder. I personally like to make a big batch and keep a stash in my freezer at all times so I can have cookies on-demand whenever I get a craving. #riskmanagement I simply freeze the already portioned and coated cookie dough balls so all I need to do is preheat my oven and bake. Ahem... winning.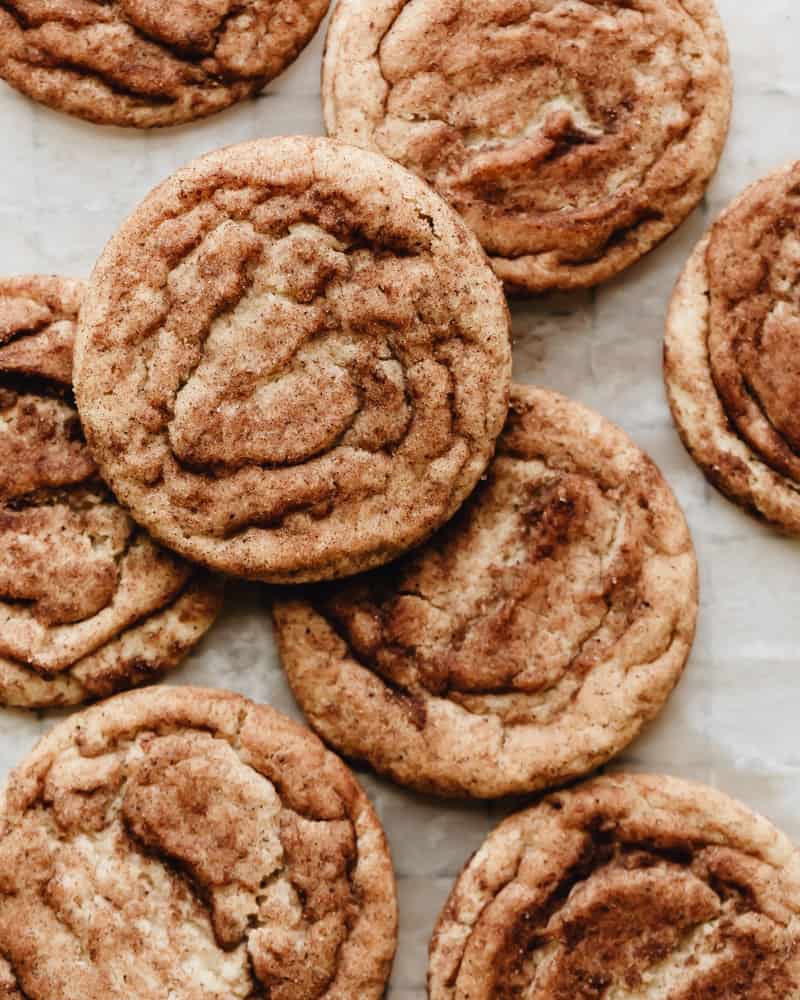 Snickerdoodles are also very nostalgic for me. I have fond memories of standing on top of the dining table chair that I pushed to the kitchen island and very diligently rolling the perfectly portioned balls of cookie dough into the cinnamon sugar ensuring every nook and cranny is evenly and sufficiently coated. Ohhh, how nothing has changed. I still inspect every single cookie dough ball to confirm there is an even distribution of cinnamon sugar all the way around. I've always been and always will be a perfectionist. It's truly a curse and a blessing—my hubby can attest to that! Anyone else relate?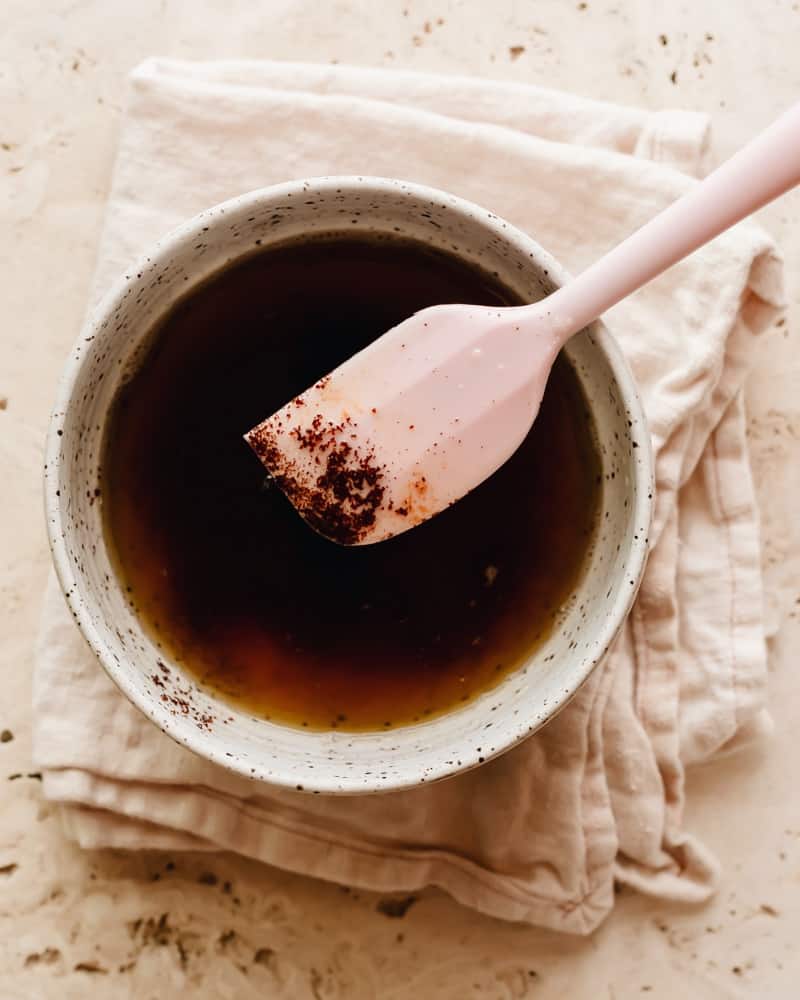 Tips for the perfect brown butter snickerdoodle cookies:
Use a large sauté pan instead of a pot to brown the butter because there is more surface area to toast the milk solids
Color = flavor! Don't shy away from getting those milk solids daaaark brown & don't strain them!
Cream of tartar is a must. It provides the signature tang and chewy texture
Chill the dough for 1 hour or overnight to achieve the ultimate chewy texture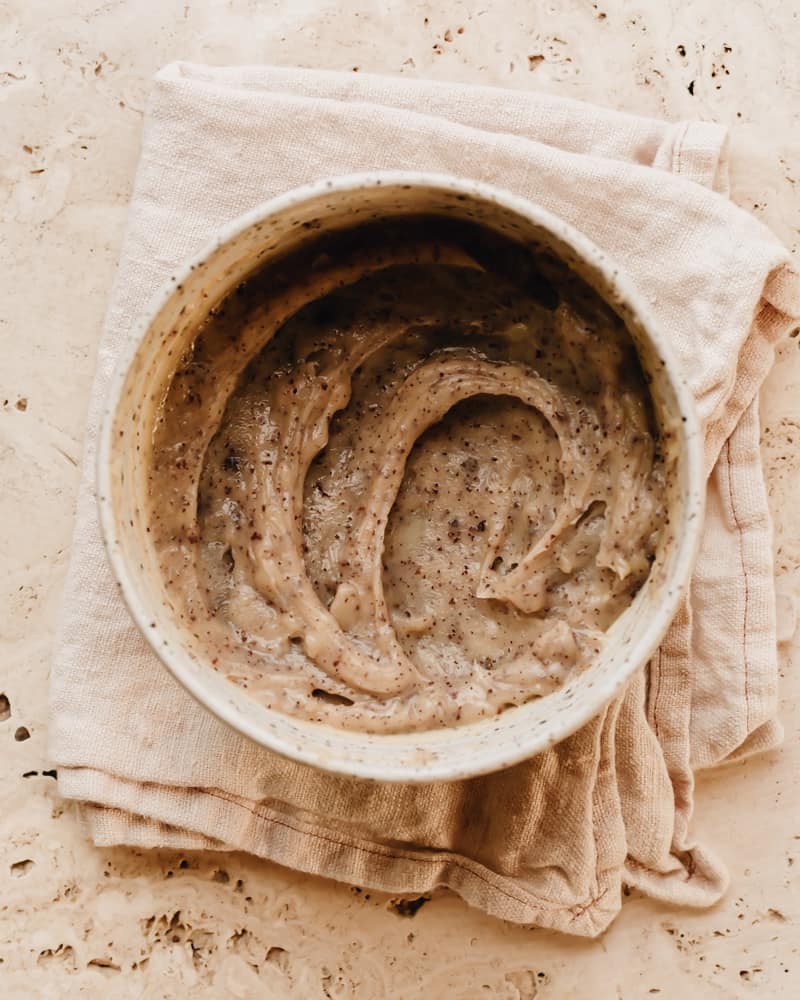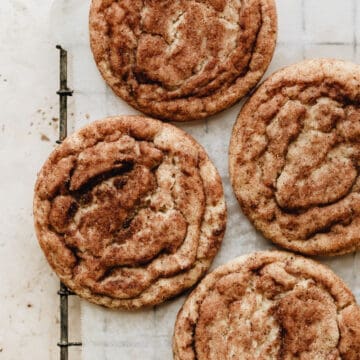 Brown Butter Snickerdoodles
Print Recipe
Ingredients
For the brown butter snickerdoodles
1 ¼

cup (2 ½ sticks; 282 grams)

unsalted butter;

cubed

1 ½

cups (300 grams)

granulated sugar

2

large

eggs

2

teaspoons

vanilla extract

2 ¾

cups (344 grams)

all-purpose flour

2

teaspoons

cream of tartar

1

teaspoon

baking soda

½

teaspoon

kosher salt
For the cinnamon sugar coating
¼

cup (50 grams)

granulated sugar

2

teaspoons

ground cinnamon
Instructions
Cut the butter into 1" chunks. In a large sauté pan, cook the butter on medium heat for 5-8 minutes until it reaches a golden amber color and the milk solids have been browned and toasted. Remove from heat, transfer to a bowl and let cool in the fridge until it has reached a softened butter consistency; about 30 minutes. We want to cream the butter so keeping the butter in its melted form won't do. But the wait is worth it!

In a bowl, combine the flour, cream of tartar, baking soda and kosher salt. Set aside.

In an electric stand mixer fitted with the paddle attachment or using an electric hand mixer, cream the softened browned butter and sugar on medium speed for 3-5 minutes until it has reached a fluffy consistency and is very pale in color. Scrape down the sides of the bowl.

Add the eggs one at a time ensuring each one is incorporated before adding the next. Add the vanilla extract. Scrape down the sides of the bowl.

Reduce the speed to low and slowly add the flour mixture until fully combined.

Line a baking sheet with parchment and portion the cookie dough into balls using a small one-ounce ice cream scoop or a generous, rounded tablespoon. Cover and let the cookie dough chill in the refrigerator for 1 hour or overnight.

Preheat oven to 350 F degrees.

Combine the cinnamon and sugar in a small shallow bowl. Roll each of the cookie dough balls in the cinnamon sugar to evenly coat.

Arrange the cookie dough onto another baking sheet lined with parchment paper keeping 2 inches in between each of the cookies. Bake for 9-11 minutes, rotating the pan halfway. I like to slightly underbake mine for the perfect soft and chewy texture. Let cool on a cooling rack. Or eat them straight out of the oven like I do. Enjoy!
Notes
For freezing: Complete steps 1-8. Keep the prepared cookie dough balls on a flat baking tray or plate (not touching!) and freeze until hard. Once frozen, you can transfer them to a sealed plastic bag to free up more room in the freezer. Freezing them on the tray first will ensure that the cookie dough balls don't stick to each other and become one big blob that will be impossible to separate when your cookie craving hits. Then, bake at 350F for 10-12 minutes.