These rosemary Parker House dinner rolls are a riff on the notorious Parker House rolls and are perfect for Thanksgiving, or a dinner party, or just because. Full disclosure: I'd like to start off by saying that I hesitate to call these Parker House rolls because: 1) they're shaped into rolls and not folded in half like clams, and 2) I added rosemary. So, yes, I am fully aware these are not 100% authentic. That being said, the recipe is the same minus the addition of rosemary. I just prefer the shape of the rolls better because it's faster and the texture of the rolls is soft and fluffy. They don't require rolling them out into rectangles and then folding them over and you don't have to worry about the folded rolls opening up and getting misshapen while baking. And let's be honest, the dinner rolls are the ideal vehicle for making leftover Thanksgiving turkey cranberry sliders.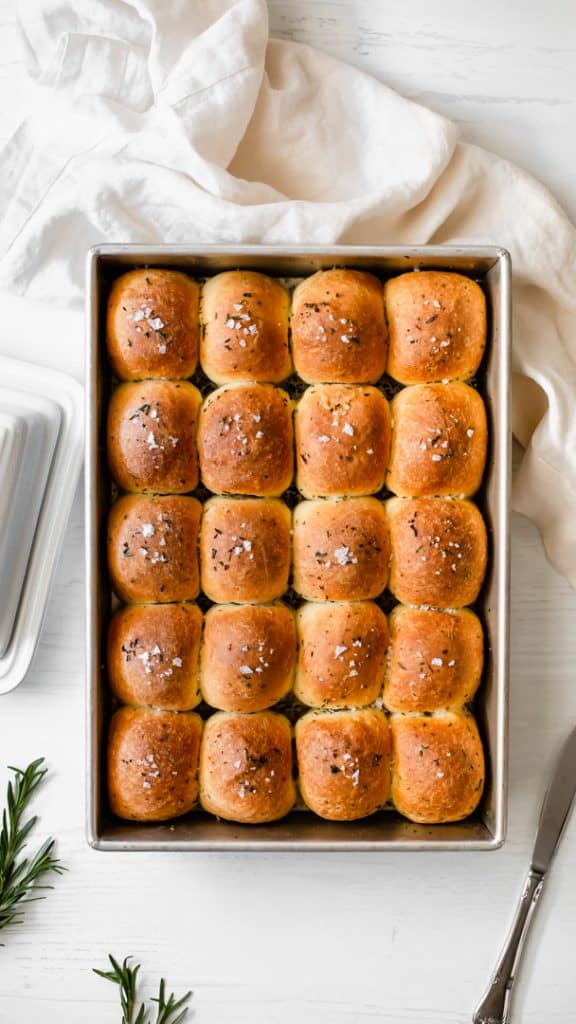 As you may know, I am addicted to carbs and butter. If not, now you know. So there's no surprise that I adore the oh-so-buttery Parker House rolls. Bread + butter are my two best friends and I can't live without them by my side. I brush the shaped rolls with melted butter before baking and then brush them with more melted butter after they come out of the oven. Luckily this recipe makes 20 rolls because you won't be able to have just one. Admittedly, I could eat a whole tray all by myself but in the spirit of Thanksgiving and the holiday season, I will share.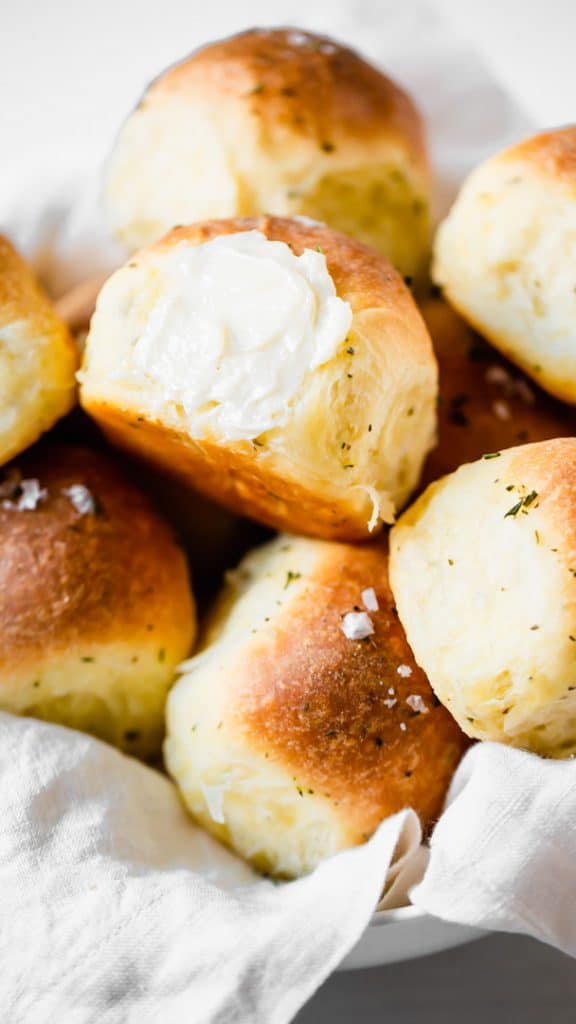 If you're intimidated by making yeast bread, then have no fear. These rosemary dinner rolls are super simple to make. Seriously. They just require some planning. As with any yeast bread recipe, you will need to plan ahead because you can't rush the proofing or skip it. The rolls take about 1 hour to proof, another 30 minutes for the final rise before baking, and then another 25-30 minutes for baking. So I'd allow yourself some time in order to have these freshly baked rolls served in time for dinner. But let me just tell you that they're worth the wait and they won't disappoint. Plus, in the meantime, you can prepare your side dishes while you wait. A win-win in my book.
Rosemary Parker House Rolls
Print Recipe
Ingredients
For the rosemary parker house dinner rolls
4 1/2

cups

all-purpose flour

3

tablespoons

granulated sugar

1 1/2

teaspoons

kosher salt

2 1/2

 teaspoons

instant yeast

8

tablespoons (1 stick)

unsalted butter

1 1/2

cup

whole milk

1/4

cup

water

1

large

egg

2

tablespoons

fresh rosemary,

finely chopped
For the topping
4

tablespoons

unsalted butter,

melted for brushing on rolls

Flaky sea salt (or everything bagel seasoning is good too!)

Chopped rosemary
Instructions
For the rosemary parker house rolls
NOTE: The dough is very sticky, which is what makes them so fluffy and soft! So please read the instructions carefully before making and see my note below about mixing*

In a bowl, combine the flour, sugar, salt and instant yeast. Set aside. Chop the fresh rosemary and set aside.

In a medium saucepan over low heat, melt the stick of butter. Add the milk and water and stir to combine. Heat on low until the temperature reaches approximately 100F. Remove from heat and transfer to the bowl of an electric stand mixer fitted with the hook attachment. 

Add the egg and then add flour mixture on top of the wet ingredients. Mix on medium speed for about 10-15 minutes until the dough becomes elastic. The dough should have some tension like a rubber band. If it doesn't bounce back, then keep mixing until it becomes elastic. *Note: this dough is VERY sticky. At first, the dough will stick to the bowl so use a rubber spatula to scrape down the sides of the bowl occasionally. Towards the end of kneading, the dough should be able to just clear the sides of the bowl but the bottom may still stick. However, if the dough is still too sticky and not forming into somewhat of a ball shape, then add more flour, one tablespoon at a time.

Add the chopped rosemary and continue kneading on low speed for another minute until evenly dispersed.

Transfer the dough to a lightly floured surface and shape the dough into a ball using floured hands. Place in a large greased bowl, cover with a kitchen towel or plastic wrap and let rise for 45 mins – 1 hour in a warm place or until doubled in size. If it is cold in your house, it may take longer to double in size. If it is warm, then it may take less time.

Gently punch down the dough and weigh out into 20 equal-sized pieces, about 2.15 oz. each. Pinch the ends and tuck into the center and then shape into balls by cupping your hand into a "C" shape and rolling them in a circular motion with the seam side down. Place the rolls into a greased 9×13 pan seam side down; arranged in 5 rows of 4.

Let the dough rise another 30 minutes. In the meantime, preheat the oven to 350F. Melt the remaining 4 tablespoons of butter and gently brush the rolls. Sprinkle with flaky sea salt and more chopped rosemary. Or everything bagel seasoning if you prefer.

Bake 25-30 minutes or until golden brown. You can check by using a thermometer. The rolls should have an internal temperature of around 200F. Brush with more melted butter while they're hot if you're a butter lover like me. But it's optional! Serve warm… with more butter. 
Notes
If the dough seems too wet and tacky, then add more flour one tablespoon at a time.