Daylight Savings has officially come to an end. The days are significantly shorter and I'm already counting down the days until we can set our clocks forward again. To drown my sorrows, I've decided to make a batch of these brown butter chocolate chunk butterscotch blondies. It's almost as if they were calling my name. I mean. Who doesn't want an excuse to bake these blondies? They've got everything going for them: Brown butter, chocolate, and caramel. Add in some Netflix, a glass of wine, and sweat pants and you've got yourself a date!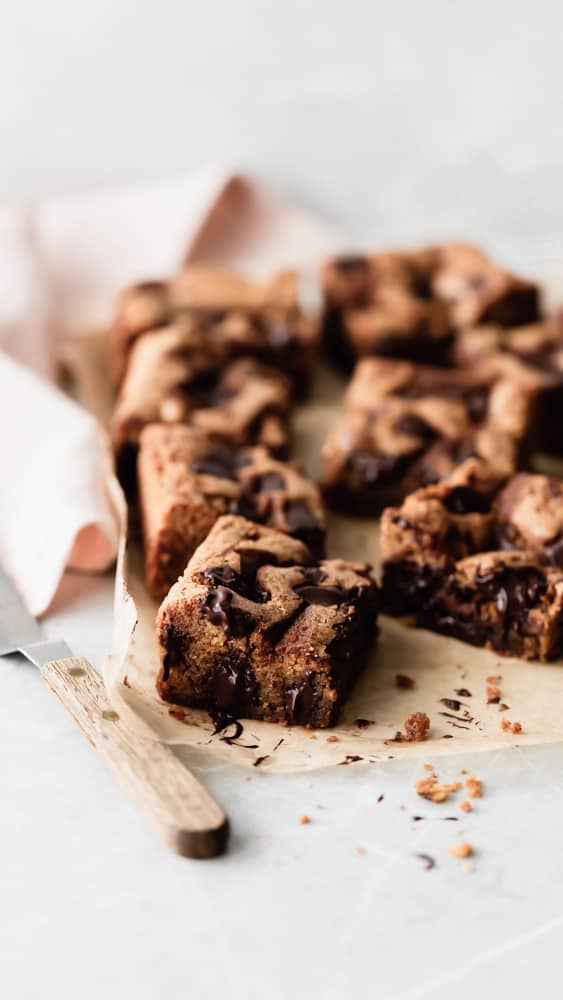 I adapted the infamous butterscotch blondie recipe from The Violet Bakery Cookbook by Claire Ptak. I first discovered this recipe in pastry school and was instantly mesmerized by the decorative top. Because these aren't your typical blondies, my friend.

These chocolate butterscotch blondies are topped with caramel shards which melt into the blondies and create a beautiful geometric pattern on top. You heard that right. The caramel shards are both beautiful and delicious. Hello caramel notes! I also like to add chocolate chunks to the top of the blondies to add more contrast and chocolatey goodness.

And, while the caramel shards may sound intimidating, the method to make them is quite easy. It's just hardened caramel broken into pieces. Simply melt granulated sugar to make a caramel, pour it over a nonstick silicone baking mat and let it cool. Then break the caramel into little shards to top the blondies before they bake. Doesn't sound too difficult, right?

In my opinion, the caramel shards is the best party trick and will make you look fancy af. Thank you, Claire, for this genius technique! There's a reason why you were chosen to make the Prince Harry and Meghan Markle's royal wedding cake.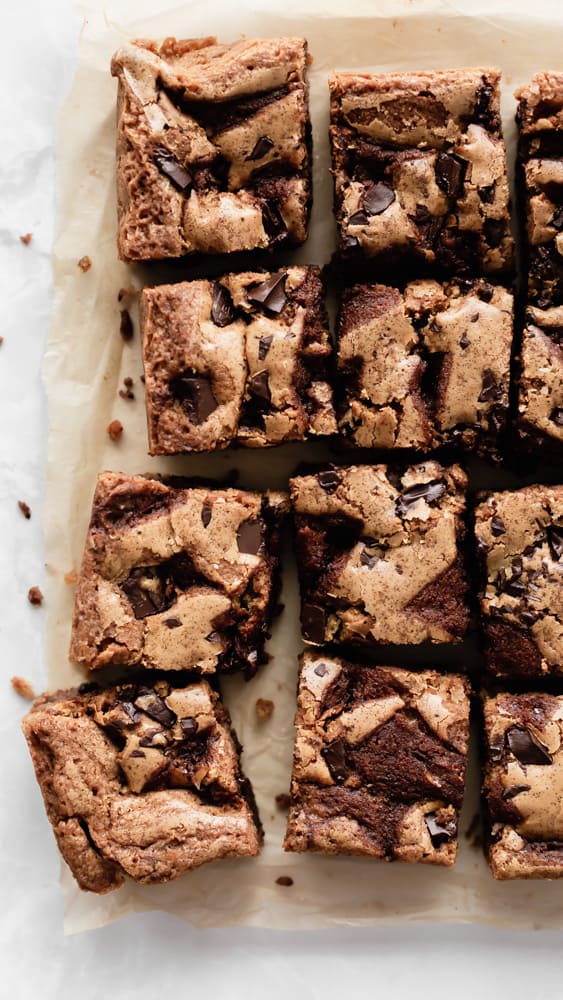 TIPS FOR MY TAKE ON VIOLET BAKERY'S BUTTERSCOTCH BLONDIES

Scale the recipe up. I made 1.5x the original recipe in order to achieve a thicker blondie. The original recipe calls for a smaller-sized baking pan (30cm x 20cm) which isn't a standard size here in the U.S. And, as a result, I found the blondies were a little too thin for my liking. So, in order to account for the bigger 9" x 13" pan I used, I increased the recipe.
Substitute brown butter. I subbed out the melted butter for melted brown butter. I love brown butter and think it complements the caramel notes perfectly. To account for losing moisture content while browning the butter, I increased the amount of butter by 20%.
Add extra chocolate. I increased the amount of chocolate in the recipe to make them more like a butterscotch chocolate chip cookie. You can never have enough chocolate, right?
Use a metal pan. When it comes to bar cookies like brownies or blondies, I prefer to use a light metal baking pan rather than the glass Pyrex. I find it makes a nicer crust and bakes more evenly. But if you don't own one, no worries!
TIPS ON HOW TO MAKE CARAMEL SHARDS

Caramel can sometimes be tricky. Have you ever made caramel and then suddenly have it turn into rock candy? That's because sugar likes to crystalize. And, cleaning burnt caramel or crystalized sugar is no fun task. So, here are some tips on how to make no-fail caramel.

Use a clean saucepan. This may sound intuitive (duh!), but when making any type of caramel, make sure the saucepan you are using is clean and there isn't any trace of grease or soap buildup from the dishwasher detergent. For good measure, I always wipe my saucepan before making caramel.
Remove any excess sugar. After you pour the sugar into the saucepan, be sure there aren't any sugar granules on the sides of the saucepan. To remove, wet your hands and wipe the saucepan clean. This will ensure that the sugar does not crystalize.
Do not stir the caramel. When making any type of caramel, do not stir it too much. Especially before it comes to a boil. I know it may be tempting, but just let the sugar do its thing. Stirring will agitate the sugar and can encourage the sugar to crystalize. If you find that the sugar is cooking faster on one side, then gently swirl the pan to evenly disperse the sugar syrup.
Use a nonstick silicone baking mat. Pour the caramel onto a nonstick silicone baking mat to cool to prevent it from sticking to the pan.
Be careful. This isn't a tip so much as it is a warning. Be careful when handling the shards. They are sharp like glass! So handle with care.
If I haven't already sold you on trying this recipe, then I can personally guarantee these brown butter chocolate chunk butterscotch blondies will become one of your favorites, too. I've made this recipe countless times and it never disappoints. Never. But, you have been warned. These butterscotch blondies are addicting and it'll be hard to stop yourself from eating the whole tray. Sorry not sorry. Enjoy!
Brown Butter Chocolate Chunk Butterscotch Blondies
Print Recipe
Ingredients
For the brown butter chocolate butterscotch blondies
2

cups (4 sticks; 452 grams)

unsalted butter, 

chopped into chunks

3

eggs,

room temperature

2

cups (440 grams)

light brown sugar,

packed

2

teaspoons

vanilla extract

2 3/4

cups (360 grams)

all-purpose flour

2

teaspoons (9 grams)

baking powder

1 1/2

teaspoons (5 grams)

kosher salt

1 1/2

cups (260 grams)

chopped chocolate or chocolate chips,

divided (reserve ½ cup (85 grams) for topping)
For the caramel shards
1

cup (200) grams

granulated sugar

1/4

cup

water
Instructions
For the caramel shards
In a saucepan, combine the sugar and water and cook on medium-high heat until the sugar is fully melted and turns a deep amber color; approximately 5-7 minutes.  Keep an eye on it!

Immediately pour the caramel onto a baking sheet lined with a nonstick silicone baking mat. Then carefully lift and tilt the baking sheet to evenly spread out the caramel into a thin layer. Let cool and harden.
For the brown butter chocolate butterscotch blondies
Preheat oven to 325°F and position the baking racks in the middle. Line a 9"x13" metal pan with parchment and lightly grease.

In a saucepan, add the diced butter and heat on medium-high stirring occasionally until the butter is browned and the milk solids are toasted. Remove from heat, transfer to a bowl to stop the butter from continuing to cook and then set aside to cool slightly. Note: You want to ensure the butter has cooled enough so that it won't cook the eggs, but the butter should still be melted.

In a small bowl, combine the flour, baking powder, and salt and mix to combine. Set aside.

In a large mixing bowl, whisk together eggs, brown sugar, and vanilla until well combined and frothy. Then whisk in the cooled melted brown butter and whisk until combined. 

Slowly add the flour mixture to the egg and butter mixture and mix until incorporated. Add 1 cup of the chopped chocolate reserving ½ cup for the top. Mix until combined.

Pour the blondie batter into prepared baking pan and smooth it out with an offset spatula. Top with the remaining ½ cup of chopped chocolate. Then break the caramel shards into pieces by gently peeling it back from the nonstick silicone baking mat, picking it up, and then dropping it back onto the baking sheet. Scatter the caramel shards over the top leaving spaces in between. 

Bake at 325°F for 30-35 minutes until the center has set. Cool completely in the pan and then cut into squares. Enjoy!
Recipe adapted from The Violet Bakery Cookbook by Claire Ptak